Estimated read time: 3-4 minutes
This archived news story is available only for your personal, non-commercial use. Information in the story may be outdated or superseded by additional information. Reading or replaying the story in its archived form does not constitute a republication of the story.
HARRISVILLE - A shopping trip turned into a belligerent shouting match between a Northern Utah Chief of Police and Walmart employees. The chief involved is now on paid administrative leave after the incident.
Investigating officers say they don't know exactly what made the chief so angry, but they say he shouted profanity at both Walmart employees, and their officers.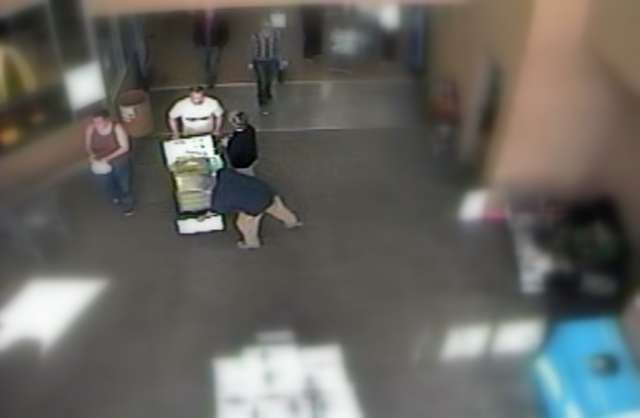 On December 12th, Perry City's Chief of Police, Mike Jones, was doing some shopping at the Harrisville Walmart.
Surveillance video shows him checking out, loading several items into his cart-- some that were bags, but many that were not. He paid the clerk and then pushed his cart toward the exit, but that's when Harrisville Police say the Chief's trip to the store took a turn for the worse.
"One of the door greeters approached him, and just asked for the receipt because of some of the unbagged items," said Lt. Keith Wheelright of the Harrisville Police department.
The 70-year-old Walmart door greeter approached Jones because she was following a new store procedure. Employees are now supposed to ask to see a receipt for items not in store bags, but apparently Jones didn't want to give it to her.
"He allegedly swore at the door greeter, walked past her without showing her the receipt," said Wheelright.
Jones allegedly shouted extreme profanity at both the elderly woman and the male employee standing in the entrance. Police say he also threatened to injure one of the loss prevention employees, and once Harrisville officers arrived, he became even more aggravated-- and continued to yell and swear at them. He also refused to tell the officers who he was.
"Just a lot of stuff about if you've got a reason, go ahead and arrest me," Wheelright said about Jones' comments. "A lot of things like that. I don't have to show you an ID, I've got rights and I know what they are. I don't have to tell you who I am."
Several security employees followed Jones into the parking lot and again attempted to talk to him. At that point, no one knew who Jones was and he did not identify himself as a law enforcer, Wheelwright said.
"The male then told us to (expletive) off and that he just spent over $400 and now he was being accused of stealing," according to the police report.
Witness Kelly East said Jones was "very confrontational, hostile, and I felt threatened because of his actions." Jones then threatened East not to point at anything in his shopping cart.
"Point at anything again and I will whoop your (expletive) (expletive)," East claimed Jones said.
Only after the Harrisville Chief of Police arrived on the scene did Jones calm down. Jones is now on paid administrative leave while Harrisville Police and the Weber County Sheriff's Office investigate the incident.
Harrisville Police are currently filing charges against Jones of Disorderly Conduct and Failing to Identify to a Police Officer.
The Perry Police Department currently has another officer on paid administrative leave for an internal investigation, so this takes their normally 7 officer squad down to 5. They are working with surrounding cities to help them out during both investigations.
Story compiled with contributions from Jennifer Stagg and Pat Reavy.
×
Related links
Most recent Utah stories