Estimated read time: 7-8 minutes
This archived news story is available only for your personal, non-commercial use. Information in the story may be outdated or superseded by additional information. Reading or replaying the story in its archived form does not constitute a republication of the story.
SALT LAKE CITY -- The potential of a dam failure caused the evacuation of a southern Utah community and put others on high alert, though by late Tuesday it appeared the worst-case scenario would not occur.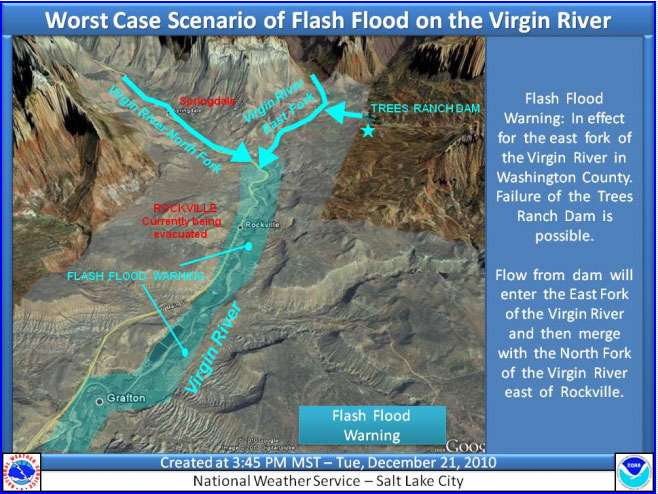 The community of Rockville near Zion National Park was evacuated in anticipation of the failure of the Trees Ranch Dam, causing a scare in southern Utah before the dam was declared safe Tuesday evening.
However, residents are still told to prepare for the worst as rain is expected to continue.
Heavy rains and melting runoff caused serious flooding throughout southern Utah all day. Washington County Commissioner Jim Eardley signed a declaration of disaster and continued flooding may happen over the next two days.
"We're not out of the woods yet on this," Eardley said.
Trees Ranch Dam reportedly in danger of failing
Shortly after 1 p.m., the National Weather Service reported the failure of the South Creek Dam on the Trees Ranch Reservoir, near Rockville was "imminent," but later amended its website to say a failure was "possible."
Related:
At a press conference held by county officials early Tuesday afternoon, commissioners said the dam is "earthen," not concrete, and located on private property.
Engineers confirmed there are breaks in the Trees Ranch Dam, but at a later press conference at 5:30 p.m. city officials then declared the dam to be safe.
Officials at the St. George Office of Public Safety feared the situation would be similar to the Quail Creek Dam collapse in 1988 and 1989.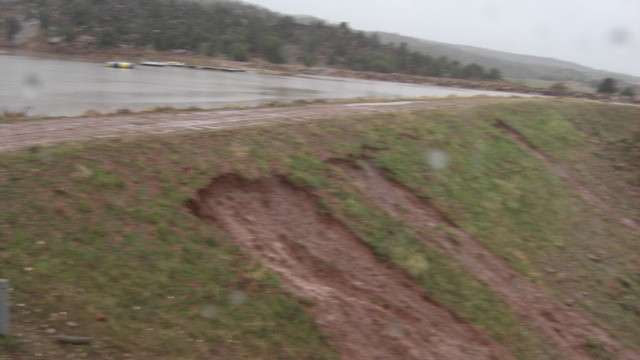 An assistant state engineer with the Division of Natural Resources last inspected the Trees Ranch Dam in April of 2010 and, according to the report, found no major problems. However, it is ranked as "high hazard" by the DNR, which means it could result in significant damage to property or result in loss of life if it was to break.
Eardley said that in a worst-case scenario, the dam would fail entirely and the water released "could double the depth of the river." The dam holds about 1,900 acre feet of water.
If the dam were to collapse, officials in St. George say it would take approximately three hours for the water to reach St. George.
Southern Utah Road Closures
St. George/Gunlock areas:
1450 South
Riverside Drive
SR-9 at Zion National Park
Cold Springs/Manganese Road
General Steam Road
Slaughter Creek Road
Highway 91 Gunlock to Beaver Dam
Gunlock Road
Shoal Creek Road
Valley View Bridge
Virgin River Trail
Old 120
Town of Rockville evacuated
The town of Rockville with about 300 residents was evacuated Tuesday afternoon. By 5:30 the road to Rockville was being reopened. [CLICK HERE to view flooding footage taken by Rockville mayor Allen Brown.]
Residents were allowed back home after engineers declared the dam safe, but many are still rattled from a day no one in the community will forget.
"I've been praying all afternoon and I'm glad it turned out as well as it did," said Rockville resident John Farrand.
John and his wife Marlene were evacuated along with all the other Rockville residents.
"We weren't afraid, but apprehensive all afternoon thinking the dam might break," said Marlene.
Related:
Food drops were made to Rockville residents, providing supplies in case the worse-case scenario happened.

Highway 9 leading to Rockville was closed at Virgin. Deputies weren't letting anyone into town because if the dam broke the water would rush through within minutes.

Those who live in the area are used to floods -- the most memorable took place five years ago. But Virgin's mayor says they've never seen anything quite like this.

"I think this one is worse, actually, and I was here five years ago on that flood," said Mayor John Grow.

The Virgin River continued to rise all day long, only adding to the fear the dam would not hold.

"I've never seen the river from our house," said Marlene Farrand. "Today, I can see it from my bedroom closet."

But at least for the night, the Farrands and other residents found some relief when the dam was declared safe.

"They say tomorrow may be the last day, and I hope it is," said John. "If it rains anywhere, it can rain somewhere else."

Other areas affected

Zion National Park was closed and the town of Beaver Dam, north of Mesquite, was also evacuated.

If the leaking dam were to break, "I think it would impact every community downstream, including (the) Mesquite and Beaver Dam," said St. George City Manager Marc Mortensen. "Our primary concerns would be those communities closest to the reservoir, which would be Rockville, Virgin, possible areas of La Verkin down by Pah Tempe hot springs, as well as Washington, subdivisions near the Virgin River, and of course areas of St. George."

A number of streets and bridges in Washington County were closed due to flooding, with many being submerged.

Flooding wiped out one of two bridges to the southern Utah town of Gunlock, and Iron County confirmed at least one bridge has been breached near Enterprise. Others have water near the road level.

Sandbags have been dispersed to all areas and are available from the Hurricane Police Department and are available at Hurricane Fire Station 1 at 202 E. State St.

Conditions may worsen

Water levels in the Virgin and Santa Clara Rivers are expected to exceed the water levels seen during the flooding of 2005. They have already swelled and receded 3 feet.

The Virgin River level in Zion National Park early Tuesday morning was 5,000 feet per second (CFS). The level is predicted to reach 8,000 CFS Tuesday afternoon. Normal CFS at this time of year is 40-50, and the highest level ever recorded was 9,150 CFS in 1966, according to park officials.
---
For sandbags, call the Hurricane Police Department at 435-635-4541 or go to Hurricane Fire Station 1 at 202 E. State St.
---
While there has been severe flooding in the area in the past decade, officials said Tuesday's circumstances are more complicated.
"We're dealing with a whole different set of dynamics," said Washington County Sheriff Kirk Smith. "We want people to understand that that is what we are planning for. This is worst case scenario," he said. "We've got 24 to 36 hours of trying to get through all this so we are going to need everybody's help. We are going to survive this. We are going to make it."
While residents may see a "lull" Tuesday night, the storm will pick up new life Wednesday and create more troubles for already swollen rivers and dams in Washington County before it moves out. Engineers planned to monitor the dam Tuesday night and again Wednesday morning.
"As the storm continues we're going to be watchful and vigilant and hopefully everyone will be fine," said Eardley.
The NWS said the Virgin River would crest again near Virgin at 3 p.m. Wednesday, and the Santa Clara River would peak near St. George at 10 p.m. Wednesday. In Bloomington, near the confluence of the two rivers just south of St. George, the water was expected to crest at 1 a.m. Thursday.
Crews will be at the Santa Clara bridge all night with backhoes cleaning debris and repairing a dyke near the Riverfront Estate subdivision.
Engineers say the water coming from the dam is clear -- an indication there is no erosion from the dam.
The Washington County Water Conservancy District reported seepage from sewer had contaminated the Virgin River, but they were able to contain the sewage by noon.
------
Story compiled with contributions from Molly Farmer, Alex Cabrero, Courtney Orton and the DMC News Division.
×
Photos
Related links
Most recent Utah stories