Estimated read time: 3-4 minutes
This archived news story is available only for your personal, non-commercial use. Information in the story may be outdated or superseded by additional information. Reading or replaying the story in its archived form does not constitute a republication of the story.
ROY -- There is much concern over the welfare of the pilot who was critically injured when he crashed into a Roy neighborhood Sunday evening. The woman whose house he crashed into is most concerned not for her home, but for his well-being.
Related
The pilot, 46-year-old Clayton Roop of West Haven, remains in critical but stable condition at the University of Utah Burn Center with burns over about 15 percent of his body.
Pat Newman is a longtime resident of the neighborhood where Roop crash landed Sunday night. As she huddled in the dark, after running from her burning home, her thoughts weren't about her half-burned house -- they were of the man who crashed his plane into it.
"When I saw that ball of flames, I didn't think anyone could have possibly survived it," Newman said.
Roop was on his way back from Lake Powell when something -- possibly the thick fog -- caused him to miss the runway in his Cessna 210, just as Newman and her husband were settling in for the evening.
"There was a flash, but I didn't get the flash, it didn't register with me until later. And then I heard an explosion," Newman recalled. "Our car was right outside the door and the explosion was so loud that I said to my husband, 'Our car has exploded.'"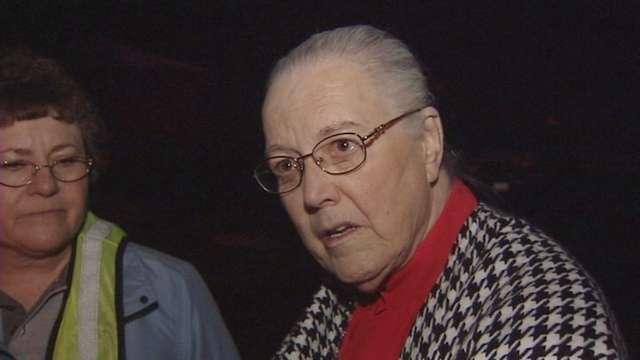 But when Newman opened her door she knew it wasn't their car, but a plane. She and her husband only had time to grab their car keys and drive away as their car began to catch fire.
"I said to my husband, 'I think we don't have all our tires because it feels like I'm driving on the rims,'" she said. "And there was no tire, it had been -- plus the front of the car, they tell me, is kind of melted."
But Newman still has a smile. That's because while she, her husband, her neighbors and the pilot all could have been killed, none of them were.
"I am so thankful we are alive," Newman said. "I am so thankful that everyone got out."
The pilot's family is thankful for that as well. Roop's wife said in a statement she and her family are grateful no one else was injured in the accident.
Roop's best friend Richard Farver spoke with KSL Monday about how Clayton Roop is doing in the hospital.
"What the doctors told us last night is that he'll need some skin grafts and he'll probably be in there for a month," he said.
Farver said Roop was a perfectionist -- that he believes something must have been wrong with the plane, because Roop was an experienced pilot who never would have taken an unnecessary risk.
"I'm sure there's a reason. Clayton was very meticulous. He would not have done anything that wouldn't be right," Farver said. "Something went wrong with the plane, not with Clayton, I'm sure of that."
E-mail: jstagg@ksl.com
×
Related stories
Most recent Utah stories