Estimated read time: 3-4 minutes
This archived news story is available only for your personal, non-commercial use. Information in the story may be outdated or superseded by additional information. Reading or replaying the story in its archived form does not constitute a republication of the story.
TOOELE -- A new bill aims to fight obesity and hunger by drastically changing the options your kids have to eat at school. It wouldn't just impact lunch options but also anything sold at bake sales or in vending machines.
The Hunger Free Kids Act only needs the president's signature to become law. It allows the U.S. Department of Agriculture to set nutrition guidelines for all foods sold in a school, during school hours.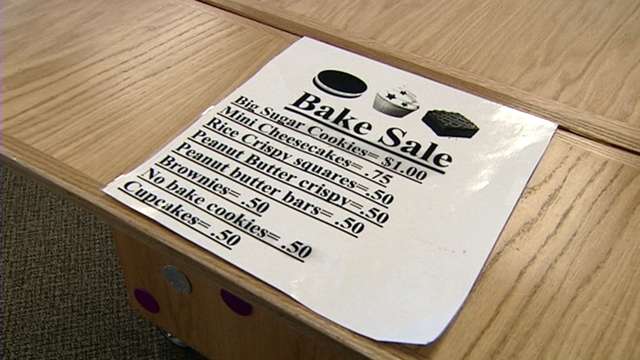 One teacher at Tooele High anxiously awaits what that will mean to her classes' weekly bake sale.
Pans of gooey rice krispie treats and inexpensive candies are how Rebecca Ford's students raise money.
She's a special education teacher at Tooele High School and started a weekly bake sale to raise money for her class. Her students bake, package, price, and sell all the goodies.
"We always sell out," she said. "It's been a blessing to my students. It's been able to teach them people skills, money skills, social skills, and it's also helped them get out in the community more and be a part of this school more than being in the classroom all day."
The money raised pays for field trips and after school activities.
"If they took away our bake sale, I don't know what we do. We would have no money to do activities or anything," Ford said.
She said students have food handlers' permits and a kitchen that is up to code. They bake during the week and sell their goods every Friday.
"It's grown so big where our school, everyone expects it," she said.
With the passing of the Hunger-Free Kids Act, the U.S. Department of Agriculture would now have the power to determine the nutrition content of food sold in schools. The bill would also increase funds for child nutrition programs and after school meal programs, increase the federal reimbursement rate for subsidized meals, and any children on Medicaid would automatically qualify for school lunch programs.
One student we talked to said her classmates likely won't pay too much attention to the bill.
Alexis Isabella, a senior at Tooele High, said, "Most of my friends go out and get fast food, so it's not going to affect them in a lot of ways. Most kids, I think, if you take away the fries and chicken nuggets, they will end up going out."
Ford is now worried the government could take away her bake sale or drastically change it.
"We've tried selling carrot sticks or ranch dip or mixed nuts, something more healthy, but no one buys it," Ford said.
She is just waiting to hear when the government will make changes and what those will be. Ford's class includes students up to age 22. She said they use the proceeds to go on a yearly field trip, have a date night, and do Sub for Santa - all while learning life skills and job skills. The new bill will not affect food sold after school hours, like at sporting events.
Story compiled with contributions from Mary Richards and Amanda Butterfield
×
Related links
Most recent Utah stories