Estimated read time: 2-3 minutes
This archived news story is available only for your personal, non-commercial use. Information in the story may be outdated or superseded by additional information. Reading or replaying the story in its archived form does not constitute a republication of the story.
John Hollenhorst reporting A woman was taken into custody just a few steps from President Gordon B. Hinckley as he convened the annual Christmas Devotional of the Church of Jesus Christ of Latter-day Saints.
Carlos Caceres, Witness: "Security grabbed her and she yelled something about Joseph Smith."
Police say she claimed to be delivering missing pages from the Book of Mormon.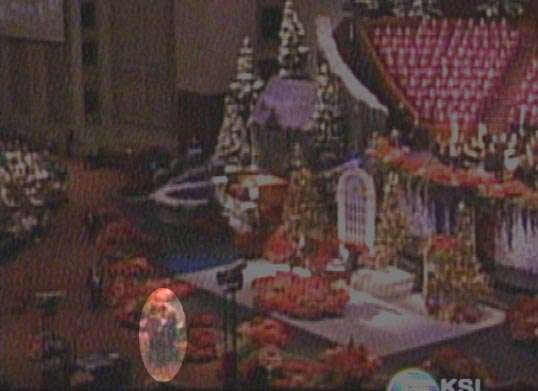 Although the incident occurred on a live television broadcast, it hardly disrupted the devotional at all. Witnesses say President Hinckley never missed a beat.
The woman was taken into custody briefly by police. But she's already been released with two misdemeanor citations. Although she apparently believes she was on an important religious mission, police do not think she posed a threat.
The devotional was just getting underway. President Hinckley was at the microphone. Suddenly a woman in red raced toward the podium. She's visible in the lower left portion of the TV screen, yelling audibly.
" (Unintelligible yelling)..."False prophet".... "Joseph Smith was my great great"...(unintelligible)
President Gordon B. Hinckley: "My beloved brothers and sisters."
Carlos Caceres, Witness: "Prophet just kept on speaking as if nothing had happened. Didn't even stutter"
Nate Graham, Witnesss: "She just ran down there and screaming 'I'm a descendent of Joseph Smith!' that's about all I caught."
Carlos Caceres, Witness: "I think I heard something about false prophet in there. But I was too caught up in watching security grab her."
Sgt. Gary Clark, Army National Guard: "And the security stopped her and escorted her off politely and quietly and professionally."
Later church security handed 44-year-old Carolyn Smith off to police.
Carolyn Smith: "Peace. Love. Happiness. Joy. Let's all join together in love."
Police say she had documents, available on the Internet, purporting to be missing pages from the Book of Mormon.
Lt. Dave Askerlund, Salt Lake City Police Dept.: "Didn't appear to be a threat to anybody. She merely wanted to deliver the paperwork to the Prophet of the church."
Smith seemed to have positive feelings about the Church.
Carolyn Smith: "Helps us raise the kids good, I know that for sure."
Police released Smith after citing her for trespassing and disrupting a religious service. They say she came up here from Texas to deliver her documents, and will fly home tomorrow. Police say she has no known connections with other religious leaders.
×
Most recent Utah stories