Estimated read time: 2-3 minutes
This archived news story is available only for your personal, non-commercial use. Information in the story may be outdated or superseded by additional information. Reading or replaying the story in its archived form does not constitute a republication of the story.
Keith McCord ReportingIf you're familiar with auto racing or drag racing at all, you've probably heard the term: "Put him on the trailer!" When drivers are eliminated from competition, they load their car on a trailer and tow it back home. A Salt Lake man who put a lot of drivers on the trailer last weekend.
61-year old Doug Chamberlain was all smiles last weekend with a big trophy and a big stack of cash -- 65-thousand dollars -- for winning the 2005 "Ultimate Gambler Drag" competition in Las Vegas.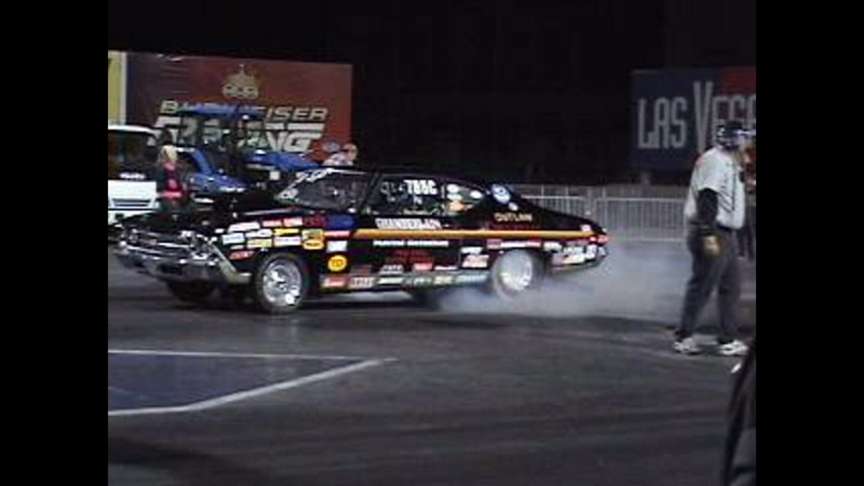 Sixty-five drivers going at it two-at-a-time. You lose, you're out. Doug Chamberlain didn't lose.
Doug Chamberlain: "I've been racing for years. I was born with a lead foot I guess."
Back home in Holladay, Doug gave us an up close look at the car, a 1969 Chevelle named the "Outlaw". With a 930 horsepower, 555 cubic inch engine under the hood. Top speed, about 150 miles per hour.
He fired it up for us.
Doug Chamberlain: "This thing gets lousy gas mileage, burns two gallons every quarter of a mile, definitely not street legal, but man it's a rush! Racing, it really gets into your blood. First of all, the smell of the fuel and the burning rubber, it gets in your blood, and you'll never get it out."
Doug's been racing since he was kid and his entire family is into cars. The older boys make up his crew; the younger one's all want to race someday. Fast cars are all over the place at the Chamberlain's. And, they've won dozens of trophies.
The Vegas win was the biggest. One-eighth of a mile in the blink of an eye.
Doug Chamberlain, Drag Race Champ: "It took me exactly 5.92 seconds. Oh yeah, it's quick."
By the way, Doug put to rest the myth that drag racing is just for guys in their teens and 20's! He's 61.
Doug Chamberlain: "I know a couple of guys who are 82, 83, still doing it, in good shape, and there's a lot of them in their 70's believe me, so these drag racers never quit."
And he's not planning to either.
Several national drag racing magazines will feature Doug Chamberlain and his win in articles in the coming weeks. And that 65-thousand bucks? It's in the bank to pay for his kids' college tuition.
×
Most recent Utah stories