Estimated read time: 3-4 minutes
This archived news story is available only for your personal, non-commercial use. Information in the story may be outdated or superseded by additional information. Reading or replaying the story in its archived form does not constitute a republication of the story.
WEST JORDAN -- Many cities in the Salt Lake Valley have already spent a good chunk of money earmarked for plowing the streets. Being just at the beginning of the snow season, they are starting to worry.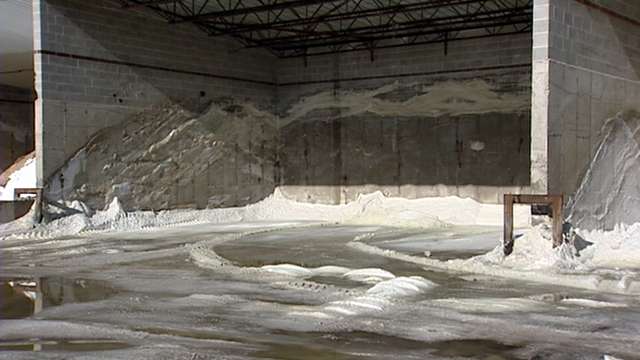 In West Jordan, they estimate they've used up 75 percent of the snow removal budget in the two big storms so far this season, and we've still got a lot of winter left.
That's not good news in an era of tight city budgets. Snowplows in West Jordan were still out Monday afternoon, clearing the streets after the city got pounded with a wet, heavy snowstorm.
Related story
West Jordan Mayor Melissa Johnson said, "We got between 8 inches and 18 inches, depending on who you are asking. And then with the snow drifting, at some point there were 3 feet of snow piled up overnight."
The city is equipped with 19 snow plows and crews that have been working around the clock. While there are some maintenance costs to the trucks and snow blades, the biggest expense is for the salt to melt the ice. Two of the city's three storage sheds are already empty.
"It's been a tough storm," said West Jordan Plow Driver Rochelle Smith. "A lot of heavy snow, a lot of traffic to deal with, and we're doing the best we can to get out and get these roads cleared."
West Jordan has used 2,000 tons in just the past 24 hours, and they are getting new deliveries. West Jordan had budgeted $149,000 for snow removal, based on an average of the past five winters.
"What we are going to do is do a budget adjustment so that we have the money we need to keep the streets in a safe condition. We have to put public safety at the top of our list," Johnson said.
Snow removal budgets
| City | 2010 Budget | % of budget |
| --- | --- | --- |
| Layton | $60,000 | 25% |
| Logan | $165,000 | 35% |
| Murray | $70,000 | 30-40% |
| Orem | No budget | - |
| Provo | NA | 5% |
| Salt Lake County | NA | 20-25% |
| Sandy | $115,000 | 20% |
| South Jordan | NA | 25% |
| West Valley City | NA | 25% |
| West Jordan | $149,000 | 75% |
Other cities along the Wasatch front are worried about a strain on their snow budgets too.
Logan estimates it has used 50 percent of its salt and 35 percent of its snow removal budget of $165,000. Layton and South Jordan estimate they've used about 25 percent of their budgets.
Russ Kakala, street superintendent for Murray City, said, "We've got a budget of about $70,000. Last year we didn't use much of it, we didn't get as much snow. This year, if it keeps going like this, we'll probably go over that."
For city leaders, guessing a year ahead about how brutal the winter will be is always a difficult job.
"It's always a balancing act. You can't put too much of your resources toward snow removal at the expense of road repairs and other things that need to be done in the city. So right now, we're trying to do the best we can with this storm, and we'll take each one as it comes," Johnson said.
The cities say everyone can do a little to help out with the snow budgets by not parking cars on the streets and giving snow plow drivers some room to work, so they can plow faster and cut out some of the cost.
UDOT estimates it spends $1 million on an average storm, and this 24-hour storm cost more than a million. UDOT is in good shape with its budget, having spent $3 to 4 million out of more than $22 million for the season.
------
Story compiled with contributions from Sam Penrod, Jed Boal and Paul Nelson.
×
Photos