Estimated read time: 2-3 minutes
This archived news story is available only for your personal, non-commercial use. Information in the story may be outdated or superseded by additional information. Reading or replaying the story in its archived form does not constitute a republication of the story.
SALT LAKE CITY -- The big BYU-Utah rivalry is only partly about who wins and loses. It's also about the tens of thousands of loyal fans who brave the cold to cheer on their respective teams.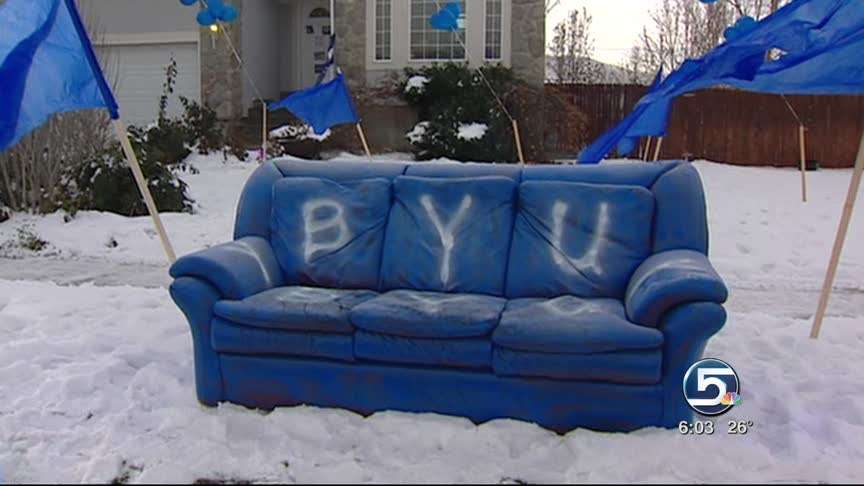 Those fans did not disappoint Saturday. Rice-Eccles stadium was sold out -- a sea of red and blue. While everyone walked in talking big, only one side could walk out with bragging rights for the next year.
As any true fan knows the BYU-Utah rivalry begins long before any ball is kicked off. In one Draper neighborhood, the feud spilled over into balloons and even furniture on the side of the street.
Most of the neighbors put up red balloons and flags in favor of the Utes, but at least one home was all the way Cougs, with it's blue flags, balloons and lone BYU couch on the lawn. It's just one of the fun traditions that accompany the feud.
Related:
Twenty ROTC cadets split ten and ten between schools ran a football all the way from Provo to Salt Lake City for the big game.
"It's a long-standing tradition," said Mike Manookin. "We've done it for I don't know how many years."
Of course once the game started, it was down to business -- cheers, big talk and big predictions. Friends, family members and even spouses became rivals.
"I went to BYU, he went to Utah," said Jared Browning about Scott Mortensen. "We're friends."
The game was the last of its kind in a way. With the University of Utah joining the PAC-12 and BYU going independent, the stakes will change.
But the spirit of the "Holy War," say alumni of both schools, will stay the same.
"I don't think the game will mean as much as it did in the past because it will get played earlier in the year, but it's great it will continue," said BYU alumn Sid Sperry.
Ute alumn Pat Dalpiaz said, "It will be the same every year. We're going to kill them."
On one hand, you could say the rivalry is only going to heat up. Due to the conference changes, the games will likely now be held in September instead of late November.
E-mail: sdallof@ksl.com
×
Photos
Most recent Utah stories