Estimated read time: 3-4 minutes
This archived news story is available only for your personal, non-commercial use. Information in the story may be outdated or superseded by additional information. Reading or replaying the story in its archived form does not constitute a republication of the story.
SALT LAKE CITY -- Bargain hunters packed parking lots and crowded into stores to check out sales on Black Friday. Some of them camped out in frigid weather, hoping to save big on gifts.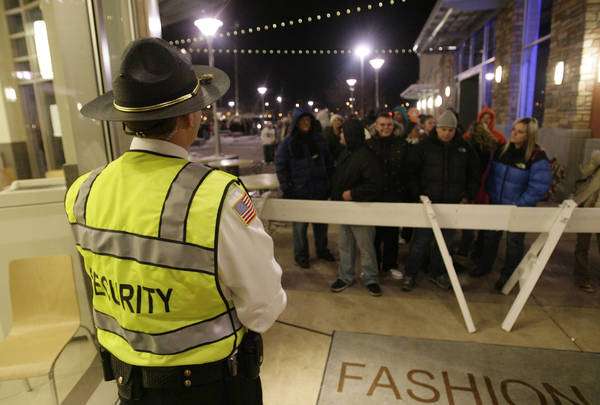 At Jordan Landing in West Jordan, customers lined up ready for the thrill of the shop. Some of them were willing to wait 10-plus hours in bitter cold temperatures to be among the first in the door as the thermometer read 11 degrees.
Two shoppers, Ashley and Tiffany, said, "I'm freezing. I'm numb, very cold." When we asked them why they were out in the cold, they said, "We keep asking ourselves the same thing."
Target opened its doors at 4 a.m. to a line of shoppers that stretched around the store. Assistant store manager Mark Pyper said, "We figure we had close to 1,000 people in the building right from the very start. So it was very, very busy."
He said people went first for TVs, Wii items, external hard drives, princess products and Pillow Pets. "The Pillow Pets have been insane this morning. They went very fast," he said.
Related:
Target shopper Alison Cogswell said, "We just have fun together. We don't actually have plans. We just come to see what deals we can get."
Another shopper, Jessie Iacono, told KSL, "We ended up getting a few deals. People were walking by putting stuff back and we hurried and grabbed it."
The Best Buy at Jordan Landing opened at 5 a.m. Linda Rin was among those who camped out overnight so she wouldn't miss any must-have items. The store handed out tickets for laptops, Blu-ray players and digital cameras two hours before the doors opened.
Rin says the wait was worth it. "We were basically the last couple that got the Sonys," she said.
Shoppers generally seemed polite. But according to one woman at South Towne Mall, "People were going crazy for the movies."
Natalie Beutler said one woman took 10 of them. "Ten of one movie! She and my aunt got into a fight," she laughed.
Jordan Van Rij and Lindsey Lee's hands were full as they continued to look for bargains. "(We're looking for) just what's on sale. Good deals," they said.
Black Friday has crept up so far that at many stores, it no longer even starts on Friday. Fashion Place Mall opened at 9 p.m. Thursday. This was the second year in a row it has held its night-before event, running throughout the night until 5 a.m. Mall marketing manager Brooke Whitebread said it attracted 25,000 people last year and was considered a success by all involved.
Zabrina James said she came from Pleasant Grove to have "sister time" with her friends while the men slept off Thanksgiving dinner at home. She's a veteran of pre-dawn, Black Friday shopping but appreciated the chance to come to the mall at a more reasonable hour. "I like staying up later instead of getting up earlier," she told the Deseret News. "I think it's a great idea."
Shopper Elisha Snow said, "We figured we would rather stay up late than get up early."
With most of the action inside the mall, Mike Rau of Orem was a solitary figure sitting outside Sears, wrapped up in several coats, a sleeping bag and a blanket. He started a nine-hour wait at 7 p.m. for a new washer and dryer at a 57 percent discount.
"I think it's worth the wait," he said. "It's something I have to buy anyway, so I might as well get a deal."
Many stores will stay open until 10 p.m. Friday and continue sales through Saturday.
------
Story written with contributions from Paul Koepp , Randall Jeppesen, Andrew Adams, and Anne Forester .
×
Photos
Most recent Utah stories