Estimated read time: 4-5 minutes
This archived news story is available only for your personal, non-commercial use. Information in the story may be outdated or superseded by additional information. Reading or replaying the story in its archived form does not constitute a republication of the story.
Nadine Wimmer reporting
produced by Linda WilliamsEvery week hundreds of Utahns carry their groceries home in reusable grocery bags. They do it to help the health of the environment, but it may be at the risk of their own health. KSL 5 News pulled out the gloves, the swabs and the culture dishes for a Staying Safe investigation that reveals - you may be carrying more in your bag than you bought.
Green Grocery Bags
"I try to use them at least once or twice a week," said Shirley Ruth.
"Once a week," said Shelly Baker.
"It's only been used about three times," said Ellen Casalino.
Whether you use them a lot, or hardly at all, it's hard to ignore the push to shop green. Reusable -- or green -- grocery bags line checkstands in most stores, reminding shoppers to ditch the paper and plastic for a bag they can use again and again.
"I don't like having all the plastic bags. I like to recycle and reuse," said Baker.
Advocates say reusable bags cut down on waste - help save the environment. But we discovered, they might also make you sick.
"I've never thought about that," said Ruth. "They don't look dirty," said Casalino.
But that doesn't mean they're clean.
The Test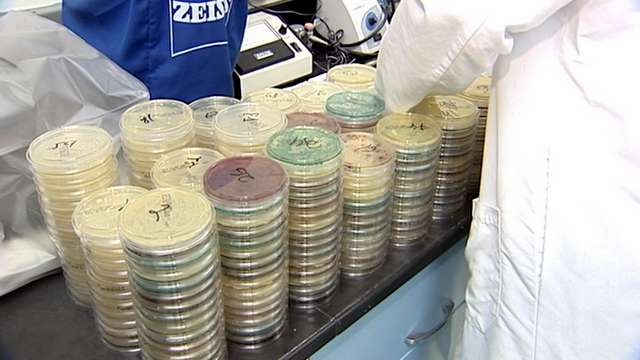 We wanted to see what exactly was inside people's reusable bags. So we set up a makeshift science lab outside a local grocery store and stopped dozens of shoppers over the course of two days. Using sterile gloves and sponges, we swabbed the insides and handles of their bags. Then we stuffed the sponges into test tubes and took them to ALS Laboratory in Taylorsville where the professionals could give the germs we collected a little more room to grow.
The Results
"This is your coliform plate," said Adrian Gallardo, as he held up a culture dish completely covered in bacteria. As the technical microbiology manager for ALS, Gallardo agreed to test our samples for three things: e.coli, salmonella, and coliforms -- or large amounts of environmental bacteria.
Studies done in other states found some reusable bags have contained samples of e.coli and salmonella. But our tests were negative: no e.coli, no salmonella. The coliforms were another story.
Of the 89 bags sampled, 99 percent had major growths of coliform bacteria and at least 50 percent had too much bacteria to count -- though Gallardo estimates there was anywhere from 60,000 to 30 million counts of bacteria.
"You can't differentiate anything cause there's so much growth on them," he said as he looked at the culture dishes covered in spores.
---
99% of reusable bags tested had major growths of coliform bacteria. More than 50% had bacteria too numerous to count.
---
"You would have expected at least some contamination," he said, "but these were really high."
And at those levels, bacteria really start to stink. Gallardo said it was so bad, the samples made his entire lab smell like a hamster's cage.
"I got nauseous after, like, about the 50th plate," he remarked.
While it may smell bad, the Salt Lake Valley Health Department says people should be concerned, but not alarmed. Large amounts of coliform bacteria can be found on practically anything. Most of it won't make us sick, but when you find so much of it in one place, Gallardo says the chances of it being bad go up.
"Any sort of coliform in these numbers could potentially give you a good tummy ache," he said.
Germs and Lead
Germs weren't all KSL found in reusable bags. It also discovered these bags contain lead.
A rapid lead test performed by the Department of Environmental Quality (DEQ) confirmed 10 different reusable bags had lead. Each registered between 20 parts per million (ppm) and 47 ppm. According to the U.S. Consumer Product Safety Commission, the allowable level for lead in the surface coatings of consumer products is 90 ppm.
The DEQ points out the levels are within safe standards, but it recommends more testing be done to find out how harmful that lead could be.
"They (the lab) can actually do the test and find out how much is actually going to leach out and how much you're going to be exposed to," said Greg Mortensen, an environmental scientist with the DEQ.
Congress is now studying whether reusable bags are a potential source of unsafe lead contamination. KSL is conducting more tests as well and will bring you the results when they return from the lab.
What Should You Do?
Tips to using resuable bags

- Wash frequently with hot, soapy water or bleach solution
- Separate foods to avoid contamination
- Designate certain bags for certain foods such as fruits, vegetables and meat
While this test did show reusable bags are a breeding ground for bacteria, experts say you should still use them. To stay safe, they recommend washing your bags once in a while with hot, soapy water or a bleach solution - to kill any germs that are hiding on the surface.
It's a simple fix, but less than a handful of shoppers we spoke with had ever done it.
------
E-mail: dwimmer@ksl.com,liwilliams@ksl.com
×
Photos
Most recent Utah stories