Estimated read time: 5-6 minutes
This archived news story is available only for your personal, non-commercial use. Information in the story may be outdated or superseded by additional information. Reading or replaying the story in its archived form does not constitute a republication of the story.
MOAB -- For the second night in a row, officers have had to scale back the search for a man accused of shooting and critically injuring a park ranger in the Moab area. Meanwhile, the Grand County Sheriff's Office has released the name of the man, calling him a person of interest.
Person of interest identified
That man is 40-year-old Lance Leeroy Arellano. Authorities say he has a criminal history including assault, drug possession and theft.
Grand County Sheriff Jim Nyland says Arellano is the registered owner of the 1999 silver Pontiac Grand Am found near the shooting site. Nyland says they found blood in the car, leading them to believe Arellano was injured.
Arellano's last known address was in Sanpete County, but he had previously lived in Salt Lake City.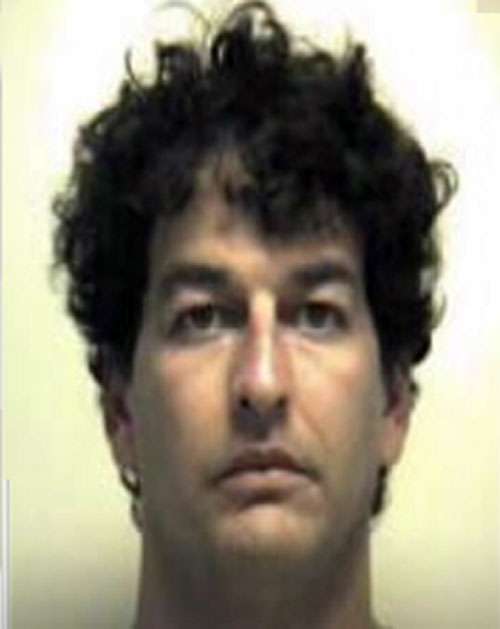 Nyland said 20 officers will remain in the search area -- which is flanked by the Colorado River on the east and slick red rock formations to west -- in case Arellano tries to move overnight. The search will resume in full force Monday morning.
"It's one of two things. Either he's back up in these boulders or somehow he got to the river and got away, but we don't think he did that either at this point," said Nyland.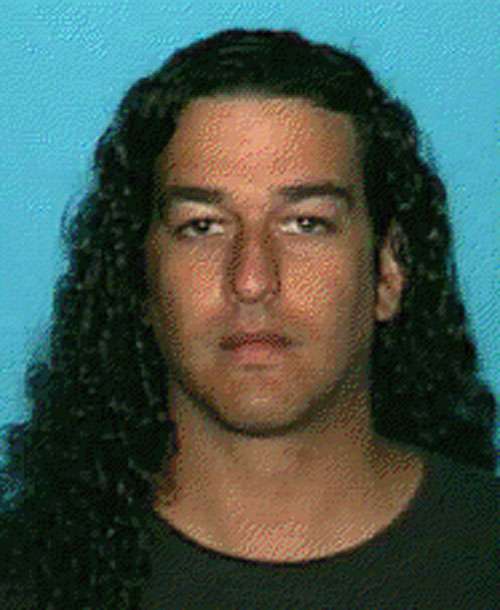 Nyland said weather had been an issue all day Sunday. A storm rolled in around 3:30 p.m., making it difficult for searchers to proceed with the manhunt. Temperatures are expected to drop to as low as 12 degrees overnight.
Earlier Sunday
Heavy overnight rain helped in the search Sunday, unveiling fresh tracks in the mud. Nyland said the intensity of the search had deepened, with 140 law enforcement officers on the ground focusing on a triangular area where the gunman's rifle and backpack were found on Saturday. Searchers also found a bloody T-shirt the man may have used as a tourniquet.
"I'm gonna catch him," Nyland said. "We know he's still there, and there's not any way out for him."
Brody Young, 34, was shot at least three times, in the arm, leg and stomach, after stopping a vehicle at the Poison Spider Mesa trail head about 8:40 p.m. Friday. He has undergone multiple surgeries and remains hospitalized in critical condition.
Nyland said Young exchanged gunfire with the driver, who sped away from the scene and remains on the loose somewhere in the canyon. The man, who police say they believe is carrying a .40-caliber handgun, had roughly a four-hour head start on searchers, who waited until daylight to get into the canyon.
---
I'm gonna catch him. We know he's still there, and there's not any way out for him.
–Grand County Sheriff Jim Nyland
---
The silver Pontiac Grand Am the man was driving was found at the end of a road about 12 miles from where the shooting occurred, and footprints were located leading from the car into the canyon. The car is registered to a Salt Lake City area man. Nyland said on Sunday police had been in touch his family, and while the man has some experience in the outdoors, he's no expert.
"A lot of overhangs, a lot of big boulders, a lot of crevices that a person could crawl into to get out of the weather," he said. "The terrain is very rugged."
After the shooting, Young was able to radio for help, prompting the exhaustive manhunt now tapping the resources of 28 local, state and federal law enforcement agencies. A total of 234 people helped in the search.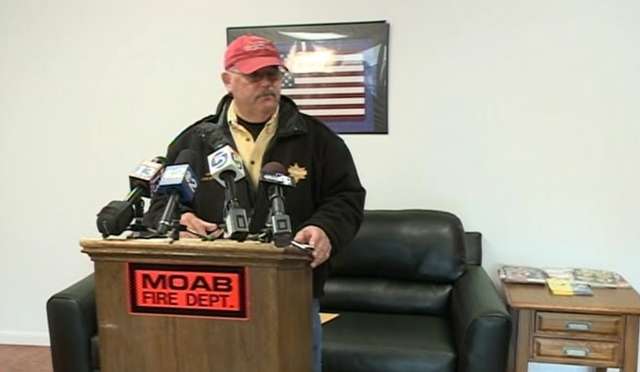 "Everybody's trying to be careful so we don't get any of our people hurt," Nyland said, "and of course we consider this guy armed and dangerous."
Though searchers have not spotted the shooter, Nyland said there are strong indications he is alive and remains in the area.
"It's where the Colorado River goes into the canyon," he said, "so there are steep cliffs on both sides. And other than walking up the river, he doesn't have anywhere else to go."
About 140 officers were on the ground and a perimeter had been established, Nyland said. The search involved officers with spotting scopes, three helicopters and two boats, as well as five tracking dogs.
The search has been complicated by the terrain, which Nyland says includes large boulders, overhangs and erosion-caused holes and crevices in the Red Rock country -- all affording an easy place to hide.
A nearby potash facility has been searched and cleared, and there is a nearby railroad line with cars that need to be cleared as well, Nyland said. A 2-mile railway tunnel will be searched Sunday, and there is also a ranch.
"It's a very big job and it's very difficult," Nyland said.
Despite all those factors, the sheriff said he believes time is on the side of law enforcement and as the hours pass, the chance of capturing the man may actually grow.
Wounded and frightened, the shooter may have access to water because of the rain, but he is likely without food and getting tired, Nyland said.
"We hope he gets desperate," and turns himself in, the sheriff said.
Family and friends pray for Brody Young
Young's family, in the meantime, continues to hold vigil over the wounded park ranger, hoping for recovery and struggling to find answers to the shooting.
Brody Young's father, wife and at least one sister were with him at the hospital this weekend. Members of the family's LDS Church ward were helping to watch the children.
Meanwhile, a close-knit community is anxiously awaiting word about the hoped-for recovery of the popular, friendly ranger.
"Brody's a good guy," said Moab resident Corrie Park. "He's got a heart for everybody and he loves his job."
Others hope for word of his shooter's capture. "He's just a good guy," said Rick Vickers. "All around he's just a good guy. I'd like to see them catch the guy and punish him."
Access to the canyon has been shutoff due to the search, and area campgrounds have been evacuated.
------
Story compiled with contributions from Amy Joi O'Donoghue and John Daley.
×
Related links
Related stories
Most recent Utah stories