Estimated read time: 2-3 minutes
This archived news story is available only for your personal, non-commercial use. Information in the story may be outdated or superseded by additional information. Reading or replaying the story in its archived form does not constitute a republication of the story.
Sam Penrod ReportingAbout this time of the day on Thanksgiving is when most people realize they ate too much, but one industry here in Utah is hoping you ate too much, turkey that is.
We've just finished up our newsroom feast of turkey and all the trimmings. Our turkey today came from right here in Utah, in fact if your turkey was the Norbest brand, then it did too. Turkey farms like one in Sanpete County is where the Moroni Feed company raises millions of turkeys every year.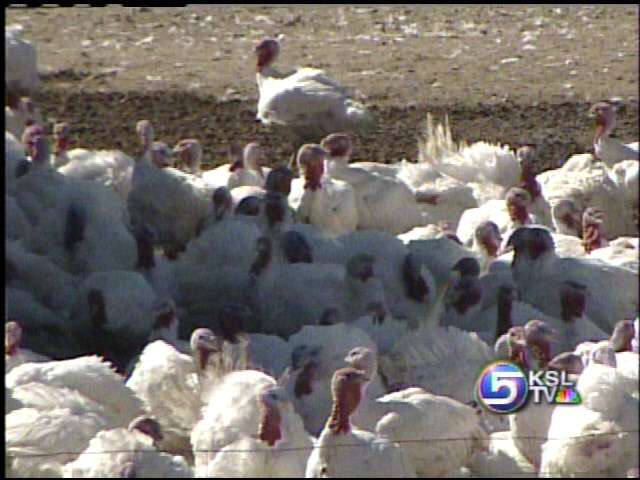 Turkeys are raised from anywhere between 14 and 24 weeks, before they go to market. And in an age when farming is becoming big corporate business, with most turkeys raised in giant facilities, Moroni Feed prides itself that family owned farms, raise the turkeys it sells.
Greg Bailey, Moroni Feed Company: "They are not confined in cages or in buildings. They are able to roam outside and take in the fresh air, and we believe that helps the product to be more wholesome and more favorable to the consumer."
Each year in Sanpete County more than five million turkeys are raised, sending more than 90 million pounds of turkey to the market.
Greg Bailey, Moroni Feed Company: "We produce a full line of turkey products, everything from ground turkey to turkey deli meat, whole smoked turkeys. We have a new pot roast that is made from dark meat and flavored like a beef roast."
Turkeys raised by turkey growers in Sanpete County are sold under the Norbest label. Last month Norbest celebrated its 75th anniversary in business. Part of that celebration means a change in the look of its packaging.
Greg Bailey, Moroni Feed Company: "We have redesigned our packaging look into a new bag with different color schemes. We've done extensive market research in the last couple of years and found this particular look is very appealing to the consumer."
There are about 1100 people employed in Utah in the turkey industry, so it is a sizeable part of the economy and the consensus here in the newsroom is that Utah turkey tastes the best.
×
Most recent Utah stories