Estimated read time: 5-6 minutes
This archived news story is available only for your personal, non-commercial use. Information in the story may be outdated or superseded by additional information. Reading or replaying the story in its archived form does not constitute a republication of the story.
SALT LAKE CITY -- On her third and final day on the witness stand, Elizabeth Smart described her alleged kidnapper as crude, vulgar and self-serving. She said Brian David Mitchell's primary concern was sex and alcohol, and he used religion to justify his actions.
She finished her testimony Wednesday morning after just 15 minutes of cross-examination by a defense lawyer for Mitchell, an itinerant street preacher accused of taking her from home knifepoint on June 5, 2002, when she was 14.
Witnesses describe close calls with Smart
Wednesday, Elizabeth Smart testified that she once tried to send a message of help. She said she tried to scratch the word "help" on a bathroom stall.
While she was in captivity, witnesses say they had some close encounters with Smart and Brian David Mitchell. It was the front page everyone remembers-- a young Elizabeth Smart, sitting next to her harp, with the big words "kidnapped." The Deseret News hung the poster with her picture in their front window, and someone wanted to take it down.
Shortly after Smart disappeared, Deseret News employee, Heidi Perry, watched a man, dressed in robes, taking down the poster. She confronted him and went to get help. But when she came back, he was gone.
"I said, 'Why are you taking that down?' And he said, 'Because they found her.' And I said, 'Well, you can't take that down, they haven't found her. I work at the newspaper and they haven't found her.' And he said, 'Well, they're reporting it in the other newspaper.' And I said ,'No they're not,'" Heidi Perry, director of the Deseret News' design department, said.
"Looking back on it, I wish I would have looked out to see, or looked around me to see who he was with or what he was doing. I didn't think about any of that. I just didn't want him to take the poster down," she said.
Months later, she was talking to Smart's uncle, also a Deseret News employee, and he said they were looking for a panhandler, dressed in robes, named Immanuel.
"Right then, that's when I said, 'Tom, he was here. He was taking down her poster in the summer," Perry said.
Also on the witness stand Wednesday: Salt Lake City police officer Jon Richey, who had questioned Mitchell; his wife, Wanda Barzee; and Smart at the Salt Lake City Library in August 2002.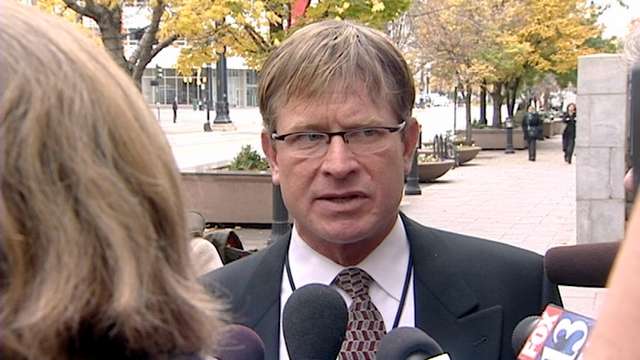 "I left that library thinking that this was not Elizabeth Smart," Richey told reporters outside the courtroom Wednesday.
Richey was a homicide detective for Salt Lake City in 2002 when he went to investigate a tip that Elizabeth Smart was at the library. The tipster said Smart was covered from head to toe, but he recognized her blue eyes.
Richey, who also testified Wednesday, said at the library he approached two women in robes. He identified himself and said he was investigating the kidnapping of Elizabeth Smart. He said he looked directly at the younger girl and got no response.
"She did not show signs of nervousness or anything that would have sent up a red flag for me," Richey said.
He said Mitchell briskly walked over to him. Mitchell told him they were from out of town and in Salt Lake to pursue the young girl's education.
"He was very coherent," Richey said. "He answered my questions consistently. He answered them directly."
Richey said Mitchell adamantly refused to let him take off the young girl's veil, saying it was against their religion. At the time, Richey said, there was not enough information or evidence to lawfully remove the veil on his own. He said, knowing the young girl was Elizabeth is difficult now, but based on the information he had there was nothing more he could have done that day.
"It was absolutely traumatizing to think that I was in the position where I could have ended the investigation in August of 2002," Richey said.
Smart testimony centers around Mitchell's religions beliefs
Smart got emotional when prosecutors asked if Mitchell was a hypocrite. She forcefully said, "Yes;" that raping her and not giving her free agency is not something God would do.
"Nine months of living with him and seeing him proclaim that he was God's servant and called to do God's work and everything he did to me and my family is something that I know that God would not tell somebody to do," she said. "God would never tell someone to kidnap her at knifepoint from their bed, from her sister's side ... never continue to rape her and sexually abuse her."
---
Nine months of living with him and seeing him proclaim that he was God's servant and called to do God's work and everything he did to me and my family is something that I know that God would not tell somebody to do.
–Elizabeth Smart
---
In previous testimony, she said during those nine months that she endured almost daily rapes and was forced to drink alcohol, use drugs and view pornography.
Smart also testified that while captive, she tried to send a message of help. She said she was at the Salt Lake City Hard Rock Cafe when she tried to scratch the word "help" on the bathroom stall.
Much of Wednesday's testimony centered on Mitchell's use of faith and his writing, "The Book of Immanuel David Isaiah," a rambling tome that outlines his own brand of religions that mixed Bible teachings with the early doctrine of The Church of Jesus Christ of Latter-day Saints and New Age philosophers.
Smart said she had read the book and Mitchell had spoken of it with her but had never discussed his controversial ideas about faith -- including polygamy -- with anyone else.
During a short cross-examination, Smart was asked by federal public defender Robert Steele whether Mitchell's use of prayers and blessings seemed familiar to her own practice of Mormonism.
Smart said there was some similarity, but Mitchell used verbal prayers to manipulate her and Barzee, including to have sex.
"The things that he would say in his prayers were things that I would never have said," she replied. "He would say, 'Please bless me,' (Smart), that I would be able to cope with my wifely duties and be able to rise to the occasion and fulfill my wifely duties. That is about the farthest thing from my prayers."
Mitchell was not in the courtroom to hear Smart or Richey testify. As on each previous day of the trial, he was removed for disrupting the proceedings by singing hymns. He watches the trial on closed-circuit television from a holding cell.
The trial will break for the Veterans Day holiday and continue Monday morning.
-----
Story compiled with contributions from AP writer Jennifer Dobner, Sandra Yi and Andrew Adams.
×
Photos
Related links
Related stories
Most recent Utah stories