Estimated read time: 2-3 minutes
This archived news story is available only for your personal, non-commercial use. Information in the story may be outdated or superseded by additional information. Reading or replaying the story in its archived form does not constitute a republication of the story.
Shelley Osterloh ReportingAbout 400 needy Utah children won't get a new winter coat this season because a sewer backed up and ruined thousands of items of clothing. The Assistance League of Salt Lake City was one of the several organizations which was flooded with raw sewage on Saturday.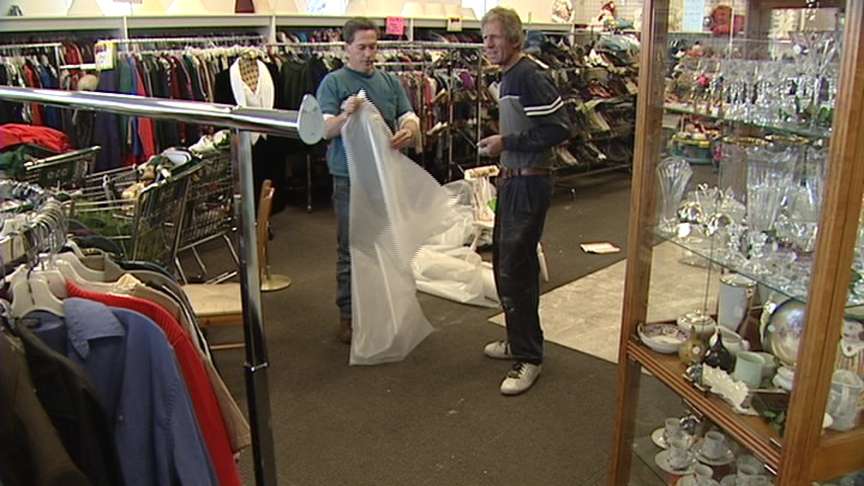 The clean-up is going well and the Assistance League hopes to re-open its thrift store, maybe as early as Saturday. This is a busy shopping time and sales from the thrift store support several important community charitable projects. It was supplies for those projects that were tragically destroyed.
On Saturday, a clog in the sewer sent raw sewage up and out of the toilets, fouling the carpets and walls with a stinking disgusting brew. In the Assistance League's Thrift Store some donated merchandise was contaminated. Crews are already replacing carpets and walls. In the meantime, the League is losing about $2,000 a day in sales.
Valerie Mercer, President: "And that money goes directly to funding our philanthropic projects, so it's a major revenue loss for us."
But the greatest damage occurred in the League's other building across the parking lot, where thousands of items were stored and ready to be delivered.
Valerie Mercer: "When I opened the door on Saturday, we had between four, five, six inches of raw sewage water here."
New coats, shirts, socks, underwear, all sorts of new clothing is purchased with money from donations and thrift store sales. School couselors in four Salt Lake Area districts identify the children who need them and volunteers size and bag a complete outfit. But now, nearly everything is contaminated.
Valerie Mercer: "We could probably wash these, but we only give out new clothing. New clothing is an important to thing to a child, and I would not want to have in my mind the worry that anything was contaminated by what they call a splash factor."
Rooms that are now empty, a week ago were packed with items for other charitable programs -- diapers and baby items for new mothers, clothing and personal things for victims of rape and sexual assault. Now all are ruined.
Assistance League volunteers are no doubt discouraged, but they are still there and working to get things cleaned up. The organization is desperate for help. You can help by donating clothing or home wares in good shape for resale at the thrift shop. Or, even better, a financial donation will help them begin to purchase new items for Operation School Bell, Baby Bundles, or Assault Survivor kits.
Assistance League of Salt Lake City
801-484-3401
Thrift Shop
2060 East 300 South
Mail financial donations to:
P.O. Box 9353
Salt Lake City, Ut 84109
×
Most recent Utah stories