Estimated read time: 1-2 minutes
This archived news story is available only for your personal, non-commercial use. Information in the story may be outdated or superseded by additional information. Reading or replaying the story in its archived form does not constitute a republication of the story.
PARK CITY -- A Park City educator recently won the World Deaf Golf Championships at Scotland's famed St. Andrews Golf Course.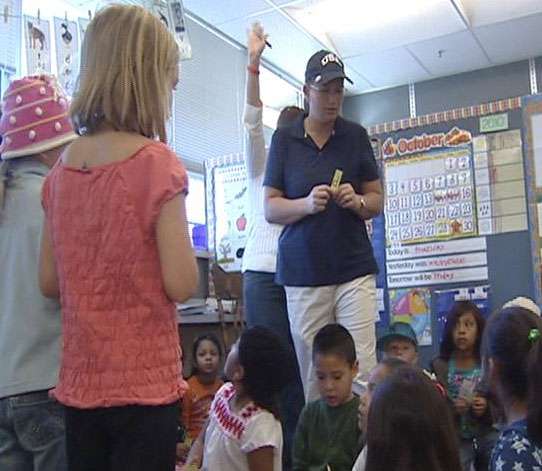 Turns out, the tournament was just part of Melissa Stockton's challenge.
Of course, she found the course itself extremely challenging, with tall grass and sand traps; and the wind and weather also added to the difficulty.
"It was nothing I've competed on before," she said.
But that was just the beginning. The airlines lost her clubs, so she played, at least initially, on borrowed clubs. The tournament was close, and she didn't know she'd won until she putted out. She would win the competition by five strokes. Then, when they went to award her, organizers found the trophy had arrived broken.
Those challenges don't detract from Stockton's experience. She recently shared what she learned with the students she helps as an aide at McPolin Elementary School.
"You can make your dreams come true," Stockton said. "And I've been dreaming about winning this, and I didn't think it was possible, but I did win it."
Though the victory was rewarding, Stockton gets emotional when she recounts how the community supported her efforts to get there. Parents, teachers and staff members all rallied to help pay for some of her travel expenses.
Finally, her official replacement trophy arrived in the mail, so all ended well -- and Stockton is already dreaming about defending her title.
E-mail: dwimmer@ksl.com
×
Most recent Utah stories