Estimated read time: 2-3 minutes
This archived news story is available only for your personal, non-commercial use. Information in the story may be outdated or superseded by additional information. Reading or replaying the story in its archived form does not constitute a republication of the story.
WEST JORDAN -- West Jordan police are trying to find a shooter who critically injured a man Monday afternoon. They hope to get more information from the injured man once he's able to talk.
As of a few hours ago, the victim, 48-year-old Frank Glore, was still in surgery at Intermountain Medical Center. He was flown to the hospital by helicopter after we was shot at his own house.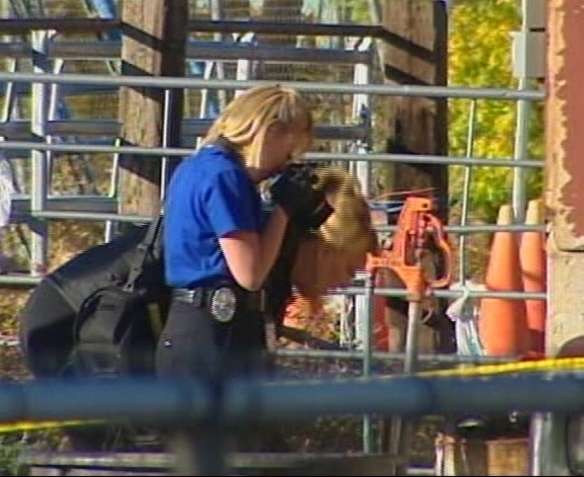 West Jordan police say the shooting happened around 3:40 near 2700 West and 8800 South. Glore went to the hospital in critical condition after being shot in the chest in his backyard.
Detectives immediately brought out their K-9 units to help search for the shooter, but they didn't find anything.
"We've called off the active search. We've contained the area, checked everything out with our K-9 units; we didn't come up with a suspect," said West Jordan police Sgt. Drew Sanders.
Police say they have good witnesses, but the information is very vague. Right now, all police are saying is they're looking for a person of interest, but they're not exactly sure of how he's involved in the shooting.
The man is described as 5 five feet 9 inches tall and weighing 200 pounds. Witnesses say he was wearing a brown shirt and jeans.
Investigators say they are not sure exactly what happened, but they're looking at all the evidence left in the backyard.
"What all that means and the relationship to the incident, we're not sure yet," Sanders said. "It takes a lot of time to piece all that information together, and we really don't want to jump to conclusions at any point here."
Detectives are also looking into the victim's history. According to the Utah courts database, Glore only had a few debt collections cases in the last decade.
"We're checking out his background right now and what was going on in his life right now," Sanders said. "We don't really have any good information right now -- certainly none we can share."
Police say they have to be very tight-lipped about their investigation. They don't want to reveal preliminary information because it's just speculation at this point.
If you see the person of interest or have information on the shooting, contact the West Jordan Police Department at 801-840-4000.
------
Story compiled with contributions from Nicole Gonzales and Nkoyo Iyamba.
---
×
Most recent Utah stories