Estimated read time: 2-3 minutes
This archived news story is available only for your personal, non-commercial use. Information in the story may be outdated or superseded by additional information. Reading or replaying the story in its archived form does not constitute a republication of the story.
Jed Boal ReportingImmigration issues stir a lot of debate and frustration in our country right now.
In January, we introduced you to a man who wondered whether his government would let his wife and children come home. He's an Army reservist who served a tour of duty in Iraq. She's a native of Guatemala who walked to America when she was 15. For many months they wondered if their family would ever be together again.
Aaron and Johana Thorsted laugh with their young girls as they play together at their Riverdale home.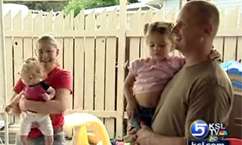 Until last month, they weren't sure their journey through immigration would end well.
Aaron said, "You're just waiting, wondering what's going on? Why does it take so long?"
For eight months, Aaron Thorsted came home to an empty house. His wife was back in her native Guatemala, applying to re-enter the U.S. legally.
"I was thinking it was easy to do all the papers," she said, "but it wasn't easy."
As a teenager, Johanna entered the U.S. illegally. When the couple married in 2003, they knew they had to fix that.
Thorstead's deployment to Iraq slowed the process. Last August, pregnant with their second child, Johana had to go back to Guatemala to apply for a visa, which was initially denied.
"When they said, 'No, you can't get a visa,' wow, maybe I can't go back any more. So I started worrying about maybe I can never come back," she said.
Because she is married to an American, she qualified for the visa despite her time here illegally. As Aaron planned a trip to visit his wife in Guatemala, they got word that the visa was approved.
"It still hadn't sunk in," he said, "and until I was a little more sure and talked to the people at the embassy, I wasn't sure it was that good of news."
But, it was the good news they were waiting for. Johana arrived back in the U.S. with her kids on her birthday last month.
×
Related links
Most recent Utah stories