Estimated read time: 2-3 minutes
This archived news story is available only for your personal, non-commercial use. Information in the story may be outdated or superseded by additional information. Reading or replaying the story in its archived form does not constitute a republication of the story.
Shelley Osterloh ReportingA new generation of office products was on display at the annual Central Office Suppliers show, where the focus is on protecting people from germs and identity theft.
Identity theft is the fastest growing crime so office product manufacturers are responding with new products.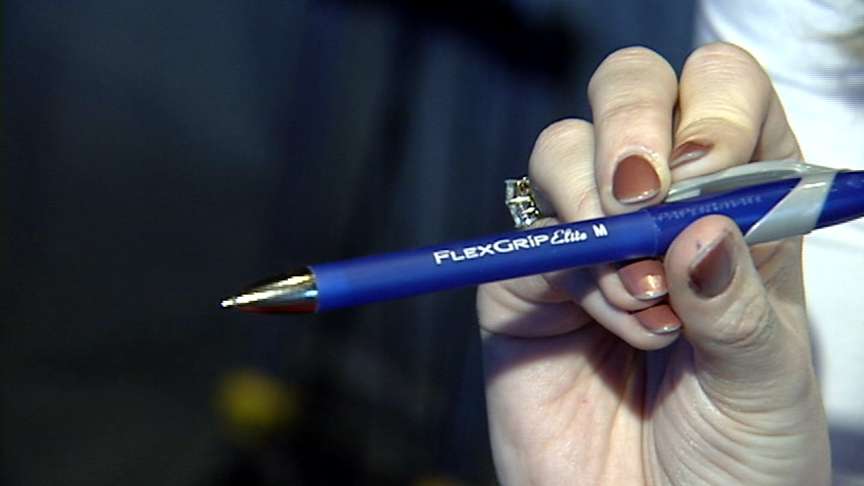 "This is the 207 pen which was developed with Frank Abignail, the guy who invented identity theft. This is the pen that he recommends for check fraud. You can't chemically lift this ink from paper, so it's really good to sign checks any legal documents."
Whether it's employers or businesses that gather credit card information, new products promise to improve how we manage and destroy materials. Shredders now strip cut, cross cut or micro cut, and even destroy CD's and DVD's.
A file cabinet is insulated with gypsum to protect against even the hottest fire, and it should stay in tact if dropped a few stories.
"If you put this file on the second or third floors of building and it falls through, it's still protected."
Studies have shown most shared office telephones and keyboards have more germs than a public toilet. So there are plenty of new sanitizers and ways to keep from spreading bacteria.
"We've come out with some new dispensers that allow to be mounted in the office. And as long as you use these, we've done tests at Fedex, and we cut down absenteeism about 30%."
There are also pens that stop the spread of germs.
"Then you actually can get bacteria through sharing pens. This one, the bacterial can't grow on the barrel of the surface, so you won't ever share bacteria with whoever you are sharing the pen with."
And forget touching that filthy garbage can when you toss out your lunch sack. A new one has an infrared sensor that lifts and closes the lid automatically.
The federal government is mandating companies help stop identify theft. Just this last June, the Fair and Accurate Credit Transactions Act -- called FACTA -- went into effect. It requires all types of businesses to properly manage and dispose of consumers' personal information.
×
Most recent Utah stories