Estimated read time: 2-3 minutes
This archived news story is available only for your personal, non-commercial use. Information in the story may be outdated or superseded by additional information. Reading or replaying the story in its archived form does not constitute a republication of the story.
Ed Yeates ReportingBe careful when you jump in that pool this weekend. A national report issued by the Centers for Disease Control says recreational water illnesses are increasing all across the country. Some of the villains are developing a resistance to chlorine.
While kids play in the Cottonwood Heights Community pool, an environmental health scientist with the Salt Lake Valley Health Department takes samples of the water. "This pool has a little bit of extra chlorine because a lot of extra kids are about to drop in all at once, and that will use up all of the available chlorine that's in there," Rolf Larsen says.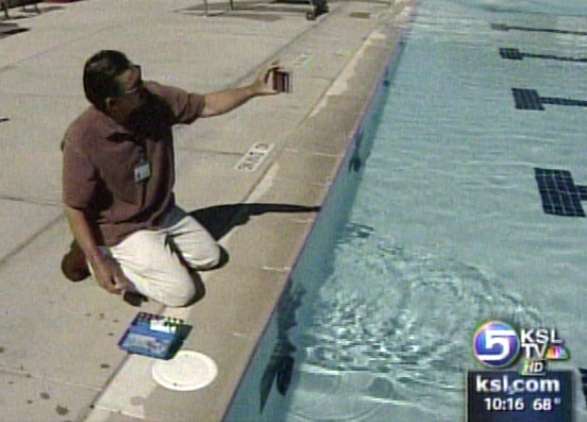 The pool's automated system continually monitors water as it flows through filters, adjusting chlorine to meet user demand, but in some cases, residual chlorine may not be enough. It's not happening in this pool, but in other situations, the health department is worried about pathogens that are becoming chlorine resistant.
The CDC now deals with outbreaks every year. For example, "They've had 62 outbreaks between 2003 and 2004. Most of that is due to an increase in chlorine-resistant bacteria, a parasite called cryptosporidium," Teresa Gray, a SLVHD water quality supervisor, said.
A CDC study shows illnesses are also on the upswing from non-chlorine-resistant pathogens like E. coli, Giardia, Shigella and Hepatitis A.
"What people can do to protect themselves and others is to make sure they don't swim when they have diarrhea," Gray said.
A single person with diarrhea could close down a pool for up to eight days. That's how long it takes now to get rid of the chlorine resistant Crypto parasite. Other advice includes:
Shower before getting into a pool.
If possible, don't swallow the water.
Let small children take frequent bathroom breaks.
And change diapers in restrooms, not at poolside. Recreational Water Illnesses, now dubbed RWI's by the CDC, can cause diarrhea, skin rashes and ear, eye or respiratory infections.
×
Most recent Utah stories