Estimated read time: 2-3 minutes
This archived news story is available only for your personal, non-commercial use. Information in the story may be outdated or superseded by additional information. Reading or replaying the story in its archived form does not constitute a republication of the story.
John Hollenhorst ReportingThere were last minute dramatics and some moist eyes today as one of the Salt Lake Valley's oldest trees bit the dust. Old age and the push for development finally proved to be too much for the tree's supporters.
A protest sign wound up in the dust today, along with bits and pieces of the tree. It says "Our Roots Go Deep." And they're not talking about the tree, they mean the people who are connected to it.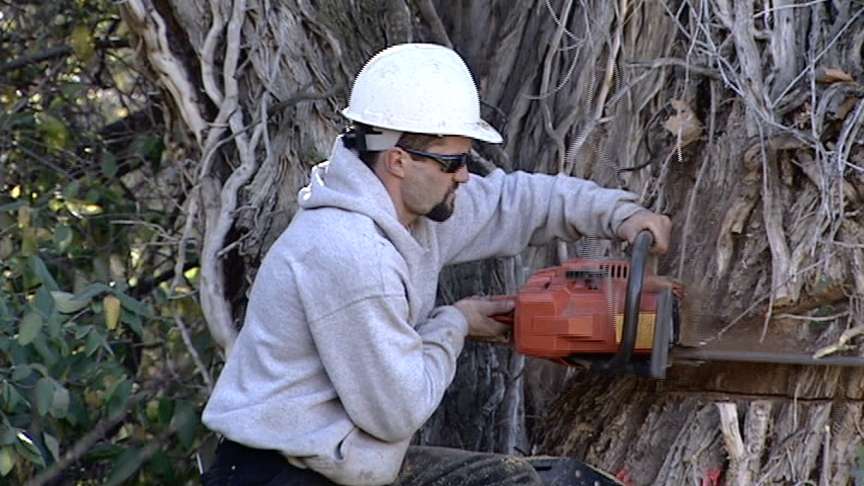 You might call it a Family Tree, one with more than 10,000 branches. They're the many descendants of John Neff, who planted the Black Locust in 1848 with seeds he carried across the plains from Pennsylvania.
John Neff's great-great whatevers watched as men with chainsaws went to work.
Marshan Nelson, Great-great-great Grandaughter: "Well, it means history. And history doesn't mean much apparently."
After the first of the tree's four trunks dropped, it seemed to get a miraculous reprieve, in the form of an e-mail.
Cheryl Nunez, Neighbor: "Saying they worked out a deal with the mayor to save the tree."
That touched off a flurry of cell phone calls and discussions. A builder plans two homes there and the tree is in the way.
Roger Berg, Platinum Homes: "I'm sad to see the tree go, but unfortunately there's more at stake than just a historical tree that I'm the bad guy taking it down."
His experts say the tree is dying.
Bruce Geurts, Morning Sun Tree Service: "It's a very hazardous tree."
The tree supporters have an expert who said the opposite.
Cheryl Nunez: "He said, 'I'll warn you that the developer can hire anybody who's hungry enough to tell them anything they want to hear.'"
After a lengthy delay the builder decided a compromise building plan wouldn't work. He had tears in his eyes talking to the Daughters of the Utah Pioneers.
Roger Berg: "I just wish it would be different, but it can't."
In the end it was an outcome that no one really wanted. In a few hours they cut it all down.
Marshan Nelson: "Hurts your heart, but I guess, progress, you know. I don't know."
Virginia Nelson: "At my age it means it's the end of an era."
The builder told us he has financial obligations to two different banks that made further delays impossible. And he says the site plan, as approved by the county, left him with no realistic choice.
×
Most recent Utah stories