Estimated read time: 2-3 minutes
This archived news story is available only for your personal, non-commercial use. Information in the story may be outdated or superseded by additional information. Reading or replaying the story in its archived form does not constitute a republication of the story.
SANDY -- A driver ran into a bicyclist at one of Sandy's biggest intersections Thursday morning, and police say construction in the area is partly to blame.
---
They thought, because of the torn-up road, that they had actually hit a pothole or something like that.
–Sgt. Troy Arnold.
---
Like so many construction areas in Sandy, the intersection at 10600 South and 1300 East is a mess. The roads are torn up and there are construction crews and cones everywhere. Many of the lanes are very narrow.
Police say all of those elements contributed to the crash Thursday morning. It happened around 6:50 a.m., while it was still dark. A cyclist was headed west on 10600 South when the driver of a car coming in the opposite direction made a turn right in front of the bicycle.
The two collided, launching the cyclist five feet from the car. Investigators say the driver was concentrating on making a narrow turn and trying to avoid hitting another car in the same driveway.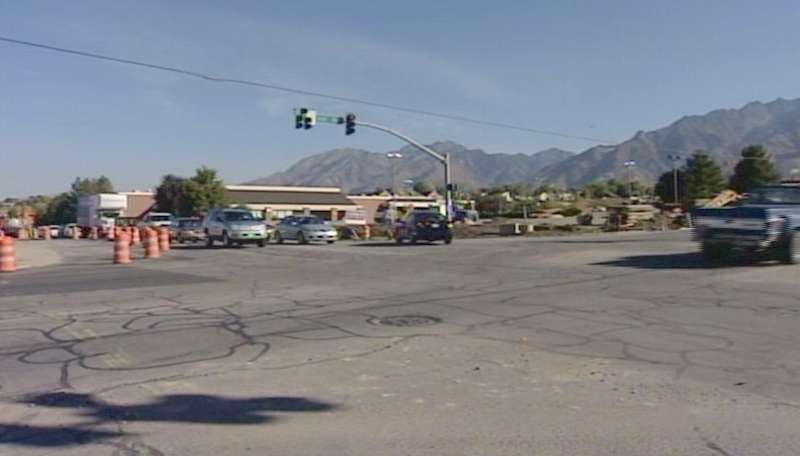 At first, the driver didn't even notice he'd hit a person.
"They thought, because of the torn-up road, that they had actually hit a pothole or something like that," said Sandy police Sgt. Troy Arnold. "The driver pulled over just after the collision and got out and started checking their car, and that's when they actually realized that they had actually hit the bicyclist."
According to family members, the bicyclist suffered a broken knee cap and several fractured vertebrae in the accidental. He is now awaiting surgery.
Sandy police say they are seeing more of these incidents in their construction zones.
"It is everywhere," said Sandy resident Charity Wright. "It's like every turn you take, you're like, 'No! No more road construction!'"
Police say drivers need to slow down at least 15 miles per hour through these zones. Most importantly, officers say to be aware of your surroundings.
-----
Story compiled with contributions from Nicole Gonzales and Cleon Wall.
---
×
Related stories
Most recent Utah stories