Estimated read time: 3-4 minutes
This archived news story is available only for your personal, non-commercial use. Information in the story may be outdated or superseded by additional information. Reading or replaying the story in its archived form does not constitute a republication of the story.
John Hollenhorst ReportingKSL News has learned that state and federal environmental officials plan an emergency cleanup of toxic soil on Tuesday.
It's the latest twist in a story we broke last week: the uncovering of an old buried ditch that once carried mining waste contaminated with arsenic.
The cleanup is for a small piece of a big problem: a buried canal that runs 17 miles from Bingham Canyon to Magna. The toxic ditch was deliberately ignored for decades because underground arsenic is not considered a health threat. Now, developers are biting into it, and some people wonder if we need tougher laws.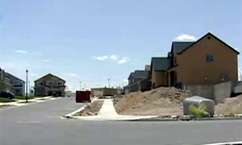 Late last week in a West Valley City subdivision project, some soil samples showed 12 times the safe level of arsenic. That triggered a federally-supervised cleanup planned for Tuesday.
Last year, another part of the buried ditch was found in West Jordan. In that case, the developers cleaned it up.
Michael Jones, of the Discovery Hills subdivision, said, "We feel like, in what we've done so far, there would be no harm to the public."
Experts knew about the 17-mile-long ditch in the early '90s when a portion was uncovered. But they didn't deal with it then because tests at that location showed low arsenic. Also, the ditch was mostly under farmland.
Doug Bacon, with the Utah Department of Environmental Quality, said, "That scenario has changed because they have dug into the ditch now, to build homes.
"Now you have the potential for the public to come in contact with that soil, and that raises the concern of a public health threat."
The excavations have stirred up an issue. Are state cleanup laws too easy on developers? Under the Voluntary Cleanup Program, state experts monitor the work and certify it's completed correctly. That's often required by mortgage lenders or property buyers.
Bill Rees, of the Utah Department of Environmental Quality said, "They may seek to have some assurance that that environmental problem has been adequately addressed. The reason the voluntary cleanup program is viable is because that program provides the mechanism to obtain a certificate of completion."
But, if property owners don't like the red tape, state law allows them to withdraw and clean up without state supervision.
"If an independent landowner does their own cleanup, we may not be involved in that process," Rees explained.
"Meaning they could do a bad job, and you wouldn't know?" we asked him.
He agreed. "Meaning they could do a bad job and we would not know about it."
West Jordan planning commissioner Nate Hendricks said, "I don't think that something as serious as arsenic should be a voluntary program. I think as residents we should have the assurance there's going to be minimum standards in the cleanup."
West Jordan's City Council will vote soon on a tougher ordinance that would force developers into the state program. A public meeting is scheduled June 14.
Experts want to convey the message that arsenic soil is a concern, but not something to panic over.
×
Related links
Most recent Utah stories