Estimated read time: 2-3 minutes
This archived news story is available only for your personal, non-commercial use. Information in the story may be outdated or superseded by additional information. Reading or replaying the story in its archived form does not constitute a republication of the story.
MURRAY -- Thousands of Utah students go to school or take courses online. It's a trend that is growing in popularity from kindergarten to 12th grade.
There are many reasons why students take online classes. Some students do it to make up credit, but more and more students now do all of their schooling in a virtual classroom. Educators say whatever the reason, the Internet is the future of learning.
---
I fully expect that in 10 to 15 years, most kids will probably do a big chunk, if not most of what they do, in a virtual environment.
–Jeffrey Herr, UTVA head of school
---
#herr_quote
Tambra and Nephi Smith are enrolled in the Utah Virtual Academy. The two spend hours on the computer every day in school, learning in a virtual classroom.
"I like 3-D art, calculus is good; most the classes I like because they'll be useful later on, but 3-D art is just fun," says twelfth-grader Nephi Smith.
"I like how I can be flexible," eleventh-grader Tambra Smith says. "I can either do it really early in the morning or in the afternoon. I can read at whatever speed I want, and I don't have to wait for someone to finish talking."
Nephi and Tambra's mother, Janet Smith, says she enrolled her kids at UTVA after several years of homeschooling.
"I could be involved with their learning, they could go faster, [and] they wouldn't be held back if they were of a mind to learn more," Janet says.
UTVA is an online school and one of the largest in the state, with more than 2,000 students.
The kids take tests and turn in assignments -- everything students in a brick-and-mortar school would do, just online.
UTVA is a public charter school, so it is required to meet the same expectations as other schools. The school made Adequate Yearly Progress (AYP) two years in a row.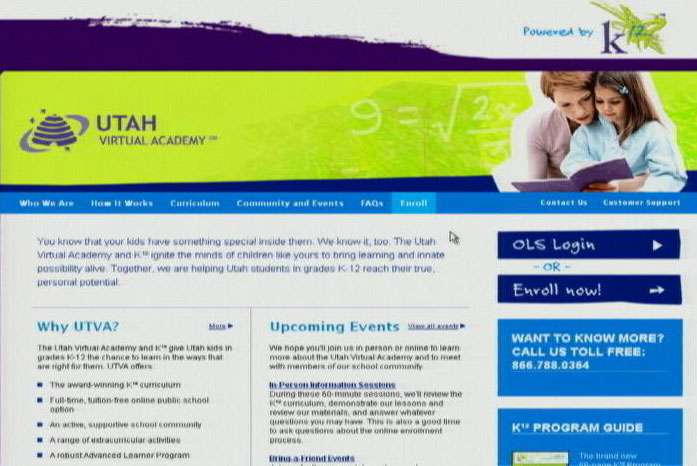 Head of School Jeffrey Herr says online learning will be the new reality in education.
"I fully expect that in 10 to 15 years, most kids will probably do a big chunk, if not most of what they do, in a virtual environment," he says.
Herr says students today just get it. They're tech savvy and connected to the digital world, more so than ever.
"The kids we're dealing with are digital natives," Herr says. "They grow up in this. This is second nature to them."
Utah's five online charter schools serve 2,900 students, kindergarten through twelfth grade, compared to 500 students just three years ago.
"It's a wonderful time for students because the options they have and parents have for their children are phenomenal," says Brenda Hales, with the Utah Office of Education.
In the past three years, nearly 20,000 students have earned online credit either to make up classes or fit in extra-curricular activities.
One of the first online options for students was Utah's Electronic High School, started in 1994.
E-mail: aforester@ksl.com
×
Related links
Most recent Utah stories