Estimated read time: 3-4 minutes
This archived news story is available only for your personal, non-commercial use. Information in the story may be outdated or superseded by additional information. Reading or replaying the story in its archived form does not constitute a republication of the story.
BOUNTIFUL -- Police are searching for a man they call a person of interest in an apparent homicide in Bountiful.
The woman's father called police after he hadn't heard from her for several days. When officers made a welfare check just after 10 a.m. Monday, they found 39-year-old Tina Wilson dead.
"Officers arrived, they forced their way into the apartment, and once they got in they found her deceased," said Bountiful police Lt. Randy Pickett.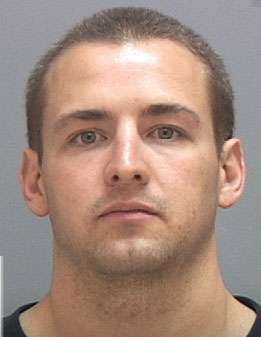 Wilson's body was found inside a basement apartment she was renting in a home near 500 South and 200 East.
Police are not saying how Wilson died, but they do say she was murdered and the person who did it tried to hide the body.
Investigators believe Wilson likely knew her killer because there were no signs of a struggle or a break-in. Wilson's car is also missing.
"We're asking for the public's help in trying to locate the car. Like I said, we don't know who has the car, where it's at; but it's not here, and the father said that it usually is," Pickett said.
That car is a 2004 beige four-door Ford Focus with license plate number 558 NXZ.
At this time, investigators are not releasing how Wilson died but say they are looking for 27-year-old Chad Mecham from the West Jordan area. He has a history of aggravated robbery.
Court records also show an arrest warrant was issued for Mecham on Sept. 27 for a parole violation.
Police say Mecham was spotted in West Valley Monday, about three hours after Wilson's body was discovered. He was seen trying to break into a home near 5900 West and 2900 South and was driving Wilson's car.
Police say Mecham and Wilson know each other, though they're not sure of the nature of that relationship.
Meanwhile, news of the crime has made residents who live in Wilson's neighborhood feeling uneasy.
"It's scary," neighbor Phillip Taylor said. "This is a quiet neighborhood. Nothing ever happens here. You know, now you gotta start thinking about getting your doors locked all the time."
Neighbor Chris Anderson said, "I have no idea what's going on, but yeah it scares me. But nowadays you hear about it all the time on the news."
Police say Wilson was last seen Sept. 28 at her job as custodian at an elementary school in Davis County. They say she may have been deceased for several days.
If you have any information that would be helpful to police, contact the Bountiful Police Department at 801-298-6000.
-----
Story compiled with contributions from Nkoyo Iyamba and Sandra Yi.
---
×
Photos
Most recent Utah stories