Estimated read time: 2-3 minutes
This archived news story is available only for your personal, non-commercial use. Information in the story may be outdated or superseded by additional information. Reading or replaying the story in its archived form does not constitute a republication of the story.
Samantha Hayes ReportingA powerful tornado slammed Indiana Sunday night and put some Mormon missionaries from Utah in harm's way.
Paul Adams, LDS Missionary: "It's pretty weird, a powerful thing. Only happened in about a ten second period of time."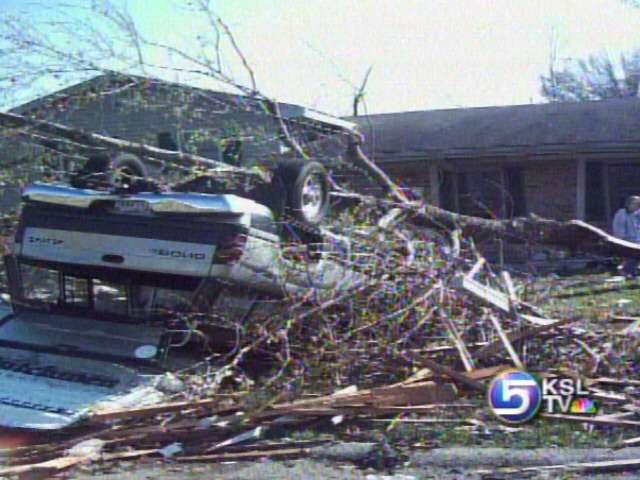 By daylight it was clear the storm was a killer. The missionaries were asleep when the tornado hit. It happened so fast there was no way to prepare. Their apartment was destroyed, but they survived and are now busy helping others get their lives back together.
Adams told his mother that perhaps the eeriest part of the tornado was right before it hit. He woke up and described feeling and energy in the room.
Life changes quickly; for Paul Adams and Tyler Moss it happened in mere seconds.
Tyler Moss: "It was like thunder, lightning inside the house."
Paul Adams, LDS Missionary: "At first it came instantly like maybe a jet engine inside our apartment, and then it took off, busted out the window. It felt like, very powerful, can't really explain the feeling."
The feeling of seeing cars in trees, your apartment building split in half, neighbors taken by ambulance to the hospital, it's hard for Adams to explain how lucky he feels that he lived in the bottom and not the top floor because the top floor is no longer there.
Paul Adams: "All of a sudden we heard like thunder in our apartment. The whole house was shaking. The next thing I know our window was shattered. See the window right there, the roof started to leak water pouring through because our house cracked. We didn't know what was going on. We come outside and saw all this and our whole roof got taken out."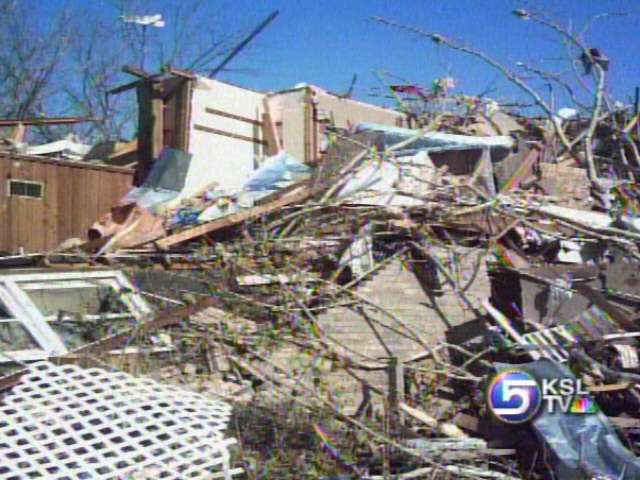 His mother, asleep in Ogden, Utah, woke up to a phone call from Adam's mission president.
Marcia Adams, Mother: "He said, 'I just called to let you know that they are fine. Their apartment is destroyed, but they are fine."
She has been looking at pictures her son sent and checking in with him frequently. Adams told Eyewitness News by phone that he is still trying to cope with what happened.
Paul Adams: "I'm in shock, in awe of how it could happen. I've seen it before in other places or in movies, but never thought I would experience it, complete destruction."
They are changing the focus of the last six months of mission to strictly service. Adams says that's what people need now. The church says all other missionaries in the area are safe.
×
Most recent Utah stories