Estimated read time: 5-6 minutes
This archived news story is available only for your personal, non-commercial use. Information in the story may be outdated or superseded by additional information. Reading or replaying the story in its archived form does not constitute a republication of the story.
SOUTH JORDAN, Utah (AP) -- Building a lake is a big undertaking: 35 million cubic feet of earth dug up and hauled away; 25 thousand tons of rock brought down from the hillsides; 250 million gallons of water pumped from points five miles away -- and farther.
Then there's the ecosystem planning, the engineering feats, bridge-building and water-filtering and, oh, while you're at it, make it look nice.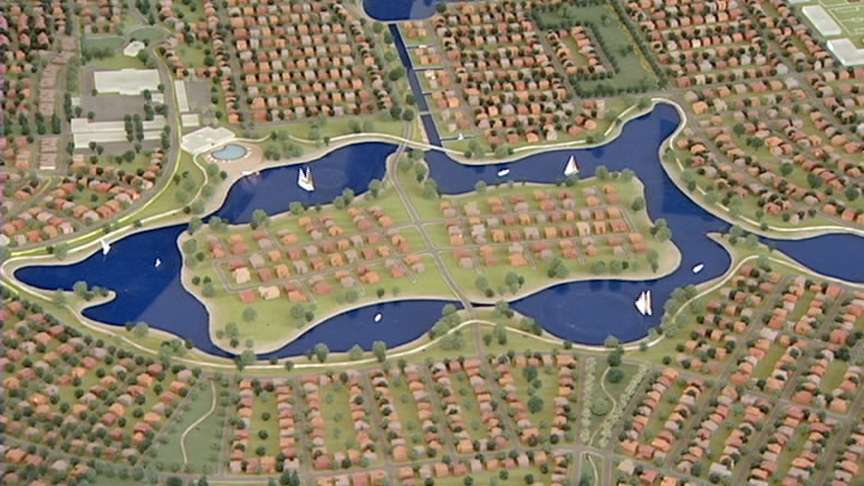 That's just Phase 1 of Oquirrh Lake a new man-made lake at Kennecott Land's Daybreak community. When all three phases are finished around 2010, water will cover 85 acres, stretch almost a mile at its longest point and have an island in the middle with about 160 homes. It will be surrounded by five miles of jogging and hiking trails. There will be a marina and slips for sailboats and for people who want to go fishing.
This week, water began spilling into the lake, pumped north in canals from Utah Lake, under water rights Kennecott has long used for its mining operations. Phase 1 will be full well, almost full within about 45 days and ready for visitors next spring.
"It struck me the other day that there really aren't any lakes in the Salt Lake Valley," Kennecott Land spokeswoman Jana Kettering said.
Including the lake's surface area and the surrounding trails and wetlands, the lake will make up 160 acres of the approximately 1,250 acres of open space planned for Daybreak.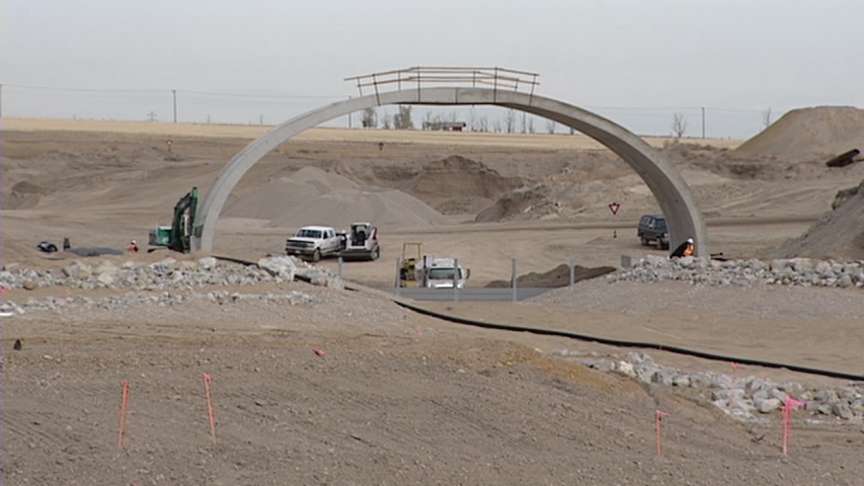 When nature creates a lake, all the particulars happen naturally. The habitat works itself out, and ecosystems follow suit. The streams and rivers that fill the lake also help keep it clean and circulating. But when humans build a lake, it all must be planned out.
First, you dig a hole. The 35 million cubic feet of earth to be hauled away will be used to build road base and other structural needs for Daybreak.
Right now, that big hole has been dug for the first phase of the lake 35 acres at the lake's southeast end. It appears now to be filled with rocks and dirt and channels thrown in haphazardly. But everything is where it is for a reason.
Workers are hauling 25,000 tons of rock from Kennecott Utah Copper's mines in the Oquirrh Mountains to build shoreline and fish habitat. Throughout the lake, at depths specifically selected for different varieties of fish, rocks are piled up to create comfortable places for trout, small-mouth bass and blue gills to hide. The lake will have an average depth of eight feet, with the deepest areas of 16 feet to accommodate trout.
The aquatic inhabitants were carefully selected with the help of Craig Johnson, a Utah State University professor. Fish species were chosen so there will be top-feeders to eat insect larvae, middle-feeders to eat swimming larvae and bottom-feeders to fight algae.
There are two bands of shoreline rock. The lower band will be under water and will protect the underwater plant life. The first phase will be filled to 3 feet below full this fall so plants can have time to establish before the lake covers them in the spring.
The upper layer of rocks will be the actual shoreline. The lake's shore will be mostly rocky to discourage swimming. Though the water will be filtered to 4-foot clarity, a level clean enough for swimming, Daybreak officials don't want the lake to be used for that, said Kennecott's director of land development, Greg Rasmussen.
Instead, there will be non-motorized boating, fishing and lots of places to hike or just sit back and watch the water. Waterfalls and a reflection pool will act as an aesthetic way to control the water level. And water pumped from the canals will be diverted into natural streams that will fill the lake.
But those streams won't provide enough circulation to keep the water from becoming stagnant and dirty. So at points throughout the lake's bottom, small purple aeration systems, much like the systems used in fish aquariums in homes, will filter, circulate and clean the water based on a computerized monitoring system.
Along the edges of the lake, wetlands are being built to help keep the water clean. Rasmussen said the lake's location would make it a natural place for run-off to end up, but storm water is one of the biggest threats to a lake's health. So while the wetlands will appear to be part of the lake's system, they will be hydraulically separate.
They will also encourage native species of birds and insects to call Oquirrh Lake home. But they are also meant to discourage some species from staying too long.
Ducks and geese, which Rasmussen calls "sky cows," present another big threat to lakes.
"They are like cows," he said. "They will mow down an area and make it an absolute mess with their droppings."
So Johnson helped the lake's designers plan the wetlands and plant life around the lake to discourage these fowl from making the shore their homes. Because predators can hide in plants and bushes, geese and ducks need a buffer zone to feel safe and ready for an escape. Oquirrh's shores won't provide that buffer. So the birds can swim in the water -- and then fly somewhere else at day's end.
The island will be the site of about 160 homes, expected to be sold beginning in 2010. Two pedestrian bridges span the lake, as do two vehicular bridges. The bridges have a 26-foot clearance so large sailboats can pass underneath.
Lake water will also be used to irrigated surrounding open space, reducing the amount of culinary water being used by Daybreak. Kettering said a lake is a surprisingly water-efficient form of open space. He said it wastes less water, even with evaporation, than a similar size golf course would.
(Copyright 2005 by The Associated Press. All Rights Reserved.)
×
Most recent Utah stories