Estimated read time: 2-3 minutes
This archived news story is available only for your personal, non-commercial use. Information in the story may be outdated or superseded by additional information. Reading or replaying the story in its archived form does not constitute a republication of the story.
HERRIMAN -- That fire started by machine gun training at Camp Williams has turned up the heat on a process that's been underway for about a year now: a study to help Camp Williams and its neighbors live together more comfortably.
When a Presidential order created the military base in 1917, it was a long ride on horseback to the nearest big town.
Now, suburban development is right on the fence line.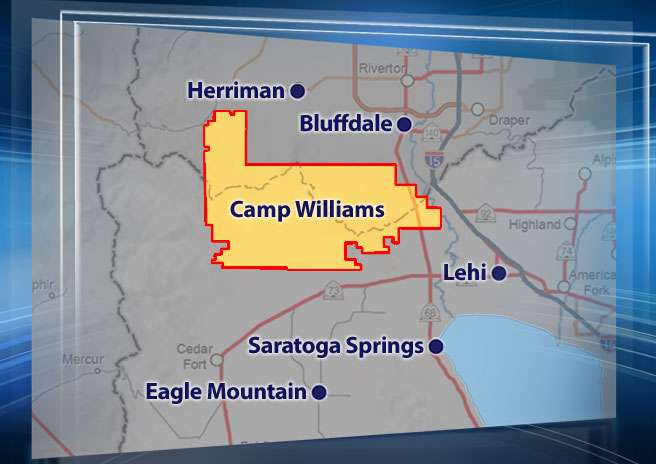 The question today is whether real estate developers will keep squeezing in on the boundaries of the base.
"It is too close. It's uncomfortable," said Eagle Mountain resident Jennifer Lloyd. Camp Williams is just beyond her backyard. "I wish they'd find another place."
The close quarters aren't just a problem here. Neighbors are squeezing in on military training facilities around the country.
"Nationally, urban encroachment on military installations is the No. 1 threat to military readiness," said Col.. Scot Olson of the Utah National Guard.
Over the last year, Olson has been meeting with leaders of five towns and two counties neighboring Camp Williams.
The planning process was launched by Camp Williams, and Jackson says this week's fire may speed up the process.
Eagle Mountain Mayor Heather Jackson chairs the group. While she says, "We love the soldiers, we love Camp Williams," the cities hear of many conflicts and complaints.
Related
"The key issues are noise, fire," Jackson said.
Olson says they hear the same complaints: "Smoke, sound, light and the threat from wildland fire."
Together this group is launching a major study to find solutions such as buffer zones.
"It could be zoning, it could be legislative actions," Olson says as potential options.
"An example of some good planning would be not to put residential directly adjacent, to look at having large open spaces, trails, agricultural uses, industrial uses, business parks," Jackson said.
The cities have already picked a consultant to do the study, and they're waiting for a $250,000 grant from a division of the Department of Defense to pay for it.
When it's done, whether or developers and communities will follow its recommendations remains to be seen.
Much of the development crowding the base took root in the boom years of the 1990s when Eagle Mountain was a brand new city.
"We didn't have a city planner, we didn't have a city administrator," Jackson said. "We were relying on consultants and developers to come up with good plans for the city."
The trick in the future will be to balance developer pressure with the military need for training.
"Absolutely it will put tough decisions in our laps," Jackson said, "but we look forward to the challenge."
Jackson says everyone involved in the process is committed to keeping Camp Williams right where it is.
E-mail: hollenhorst@ksl.com
×
Related links
Related stories
Most recent Utah stories