Estimated read time: 2-3 minutes
This archived news story is available only for your personal, non-commercial use. Information in the story may be outdated or superseded by additional information. Reading or replaying the story in its archived form does not constitute a republication of the story.
John Daley Reporting"The motive here was racially based...there was no provocation."
A brutal beating of an African-American man and federal prosecutors say it was hate crime. Three men with ties to white supremacist groups now face federal charges.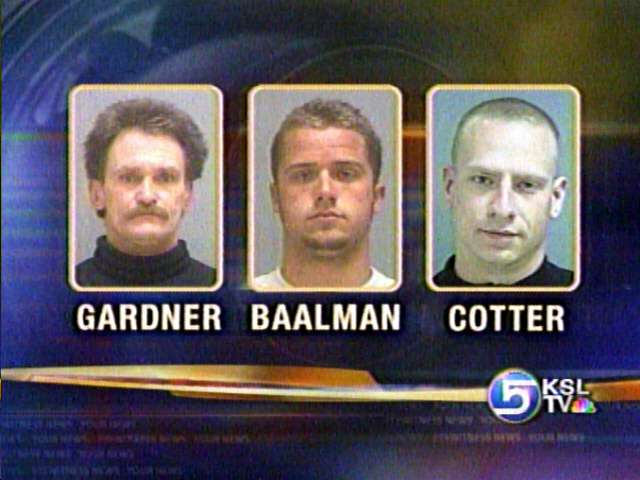 Police say it was a savage attack, a man assaulted by three others hit repeatedly in the head with a bottle. Now federal prosecutors are charging the alleged attackers with federal hate crimes charges.
The victim in this story is a 52-year-old African-American. The accused three men who authorities say have links to white supremacists. The motive, they say, is hate. The incident happened one night about 10 pm in March in Salt Lake City near 500 East and 1300 South.
Police say the man was simply riding his bike to work a night shift at his job. Out of nowhere three men attacked him, beating him badly in the head with a bottle.
Today prosecutors announced that federal civil rights charges are being filed against the three men who allegedly carried out this attack. Robby Wayne Baalman, 22 of Sandy, Keith Wayne Cotter, 25 of Draper, and David Lance Gardner, 43 of Sandy, are being charged in the case.
Paul Warner, U.S. Attorney: "This was an unprovoked assault. This type of activity will not be tolerated."
Jeanetta Williams, Utah NAACP President: "The impact of a hate crime in Utah and hate crimes in general is people don't want to move to Utah, number one. Number two is that they're afraid to go out."
The arrests and charges came after a joint effort involving the Salt Lake City PD, the FBI Joint Terrorism Task Force, the U.S. Attorney's Office, and the Justice Department. U.S. Attorney Paul Warner says while people are free to espouse hateful ideas, they are not free to act on those ideas in ways that are criminal and dangerous.
Paul Warner today said prosecuting those behind bias-motivated crimes is one of his top priorities.
The defendants face up to 10 years in federal prison and a 250-thousand dollar fine.
×
Most recent Utah stories