Estimated read time: 2-3 minutes
This archived news story is available only for your personal, non-commercial use. Information in the story may be outdated or superseded by additional information. Reading or replaying the story in its archived form does not constitute a republication of the story.
PROVO -- An Orem man who is recovering from heart surgery found a unique way to thank the medical team who helped save his life. He got a band to play for the doctors and nurses.
Jerry Ward spent nearly two months in Utah Valley Regional Medical Center. He was released just a couple of weeks ago. With a new lease on life, he decided there's not a better way to say thanks than with the sound of music.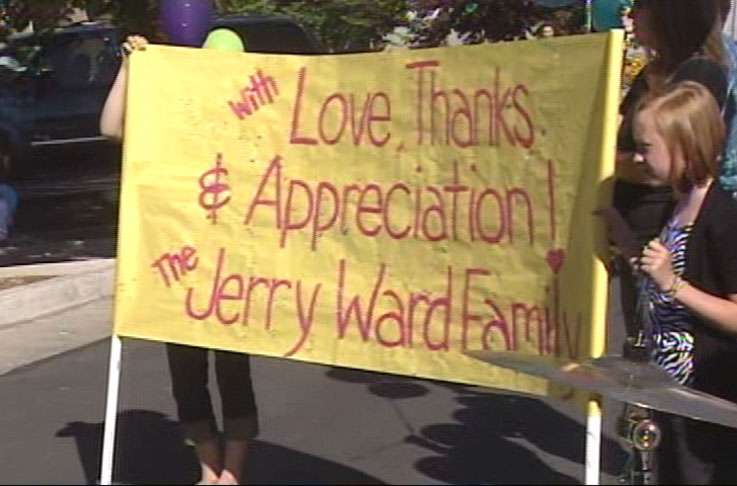 The Maple Mountain High School marching band put on a concert in the hospital's parking lot Monday afternoon for the caregivers who help people get better every day.
"Everybody thanks them, we all do: 'Thanks for the great job, doc.' And I said, 'They deserve more," said heart patient Jerry Ward.
Just a few weeks ago, Ward was a patient in UVRMC's cardiac unit. When arrived at the hospital unconscious, doctors feared he wouldn't survive.
Ward underwent five bypasses on his heart in a very complicated surgery.
"This is for them," he said. "We want this to be a memory and let them know how much we appreciate what they do, because without them many of us wouldn't be alive."
While Ward didn't know it at the time, his surgeon spent the night at his bedside to ensure he remained stable.
Monday, all of the doctors, nurses and specialists celebrated Ward's amazing recovery.
"The marching band was fabulous," said cardiac surgeon Dr. John Mitchell. "It was a great opportunity to get all of hospital staff, rehab, operating room and floors and just spend some special minutes with the patient. It was really beautiful."
Ward's son-in-law is an administrator at the Mapleton High School. He said Monday's concert gave band members a chance to rehearse with an audience.
E-mail: spenrod@ksl.com
×
Most recent Utah stories