Estimated read time: 2-3 minutes
This archived news story is available only for your personal, non-commercial use. Information in the story may be outdated or superseded by additional information. Reading or replaying the story in its archived form does not constitute a republication of the story.
SALT LAKE CITY -- Walter Breuning had a grand celebration last year, and he's about to have another as he approaches 114 years.
University of Utah psychiatrist Daniel Christensen just returned from a visit with Breuning at his retirement community in Great Falls, Mont.
What is ... a supercentenarian?
A supercentenarian is someone who has reached the age of 110 years. This age is achieved by only one in a thousand centenarians. Furthermore, only 2 percent of supercentenarians live to be 115. -Wikipedia.org
"Walter is dressing himself. He puts on a suit and tie every day. His apartment is on the second floor and he walks the ramps," Christensen said.
"Every day I exercise," Breuning said in a recorded interview. "Every morning I do all my exercises."
Though this supercentenarian smoked cigars until he was 99, he's kept off excess weight by eating only two meals a day.
As Christensen interviewed Breuning, he was amazed at how functional Breuning's brain has remained through the older years.
"He wanted to talk about Teddy Roosevelt," Christensen said. "He talked about the election of 1921, always comparing things that were happening a hundred years ago to what's happening today. I mean, it's like sitting with Yoda."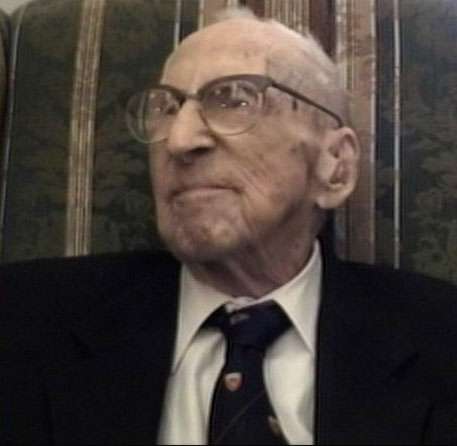 Diet, lifestyle, challenging the brain -- they all play a role, but not as much as genetics.
Researchers are fascinated with how the genetic machine in some older folks prolongs cellular life.
Christensen showed KSL News photographs of another supercentenarian who looked as young at age 40 as she did at 20. She died at age 122.
After another woman died at age 115, doctors performed an autopsy and found no brain deterioration, no signs of Alzheimer's disease. In fact, the tissue even at that age was still normal.
Christensen admits theories of preserving cells sometimes border on science fiction. It's mind-boggling to undo what naturally occurs with every living organism, but what if science could unravel the mystery?
"We're going to come out sort of even in the sense that people won't age beyond that point," Christensen said.
That point? Christensen says Walter holds his age well, still enjoying a quality of life. But aging beyond a given level may not necessarily be the nirvana everybody might expect or want.
By the way, Walter Breuning has also survived cancer. He has now outlived his wife, who died in 1957, by more than half a century.
E-mail: eyeates@ksl.com
×
Most recent Utah stories