Estimated read time: 2-3 minutes
This archived news story is available only for your personal, non-commercial use. Information in the story may be outdated or superseded by additional information. Reading or replaying the story in its archived form does not constitute a republication of the story.
WEST JORDAN -- Elementary school students in the Jordan School District got a tasty lesson about local produce Wednesday. The Farm to School program adds fresh fruits and vegetables to school lunch while giving students a chance to learn about where their food comes from.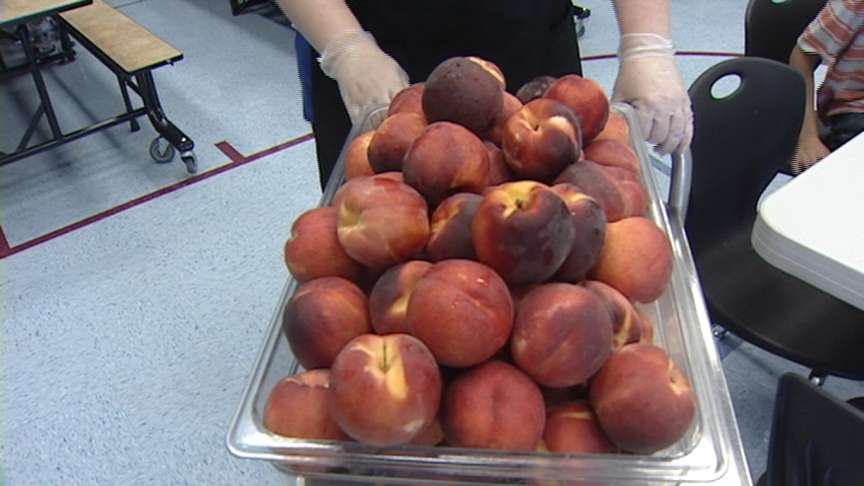 Students at Falcon Ridge Elementary School had peaches from Cherry Hill Farms in Santaquin.
"It's really sweet and it has good flavor," said fifth-grader Grace Smith.
First-grader Holden Smith said, "Sometimes peaches are sour, but they're not that sour."
"I just really like the taste of it," said fourth-grader Kymbrey Darger.
The summer fruit is an addition to regular school lunch. Students at all Jordan School District elementary schools will get fresh fruits and vegetables over the next several weeks as part of the Farm to School program.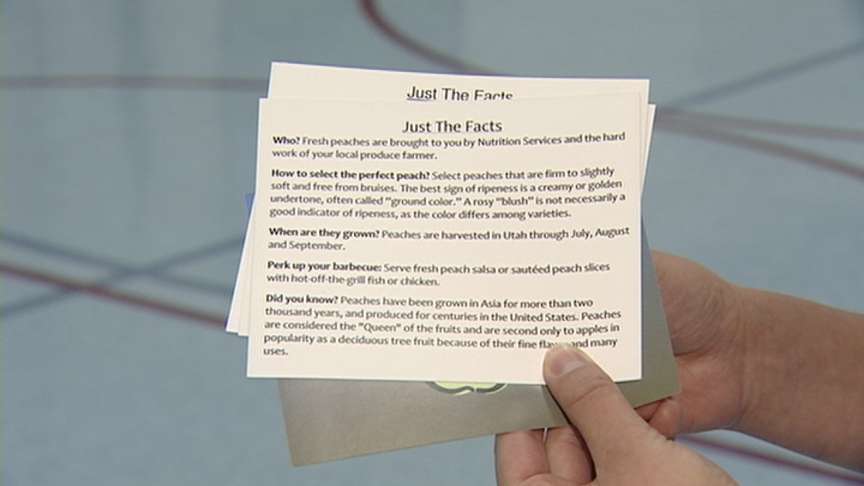 "I think it's really good that they have all these things in our cafeteria so it keeps our brains working and we are healthy," said fourth-grader Devyn Lopez.
The program is the first of its kind in the state to bring local fruits and vegetables to schools.
"[We're] buying local produce from local farmers and bringing it into the cafeterias so kids can try it and taste it," said Vanessa Richards, a registered dietitian who works for the Jordan School District.
Parents say they like the idea of their kids eating local because it's good for the state's economy and it's healthy.
"It helps support the local community and it gives these guys a sense of pride. They know where it's coming from," said parent Christopher Viehweger.
Produce coming to schools
Sept. 13 - Pears
Sept. 27 - Tomatoes
Oct. 11 - Corn in husks
Oct. 25 - Spaghetti Squash
Nov. 8 - Carrots
Nov. 22 - Red/Yellow Potatoes
"We're supporting our local farmers, and the fruits and vegetables are better, juicier and taste better," parent Sandra Smith said.
Students also get to learn fun facts about their food. Kymbrey says she learned that peach trees are part of the rose family.
Each time students chose fresh fruit or vegetables they get a card with fun facts about produce.
E-mail: aforester@ksl.com
×
Most recent Utah stories