Estimated read time: 2-3 minutes
This archived news story is available only for your personal, non-commercial use. Information in the story may be outdated or superseded by additional information. Reading or replaying the story in its archived form does not constitute a republication of the story.
Jed Boal ReportingHead anywhere in Utah today, and chances are people were talking about the Jazz, everything from Derek Fisher's fourth-quarter scoring barrage to Boozer's dominance in the paint.
It's not idle chatter. When the community cheers, the world hears. The Jazz struggled a few years after Stockton and Malone left. But the team is a winner again, and that has a certain value all its own.
Vintage Jazz window flag -- $1. Game five seats in the lower bowl-- $1,000 on eBay. Impact on Utah's image from a deep play-off run -- priceless.
When it comes down to it, Scott Beck of the Salt Lake Convention and Visitors Bureau says the Jazz players are ambassadors.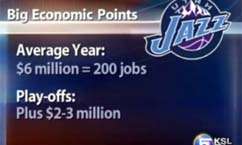 "The national press that this gets, and the national pride people have in the playoff season, this is such a great experience for us to be out there in the national spotlight as a destination," Beck says.
Not necessarily a destination for Tuesday's game, or even next week or next year. But a good team on a good run gives viewers around the world a good feeling about Utah.
Utah Sports Commission research estimates a $6- million economic impact from the Jazz on an average year. That's the equivalent of 200 jobs. When they thrive in post season, it's a few more million.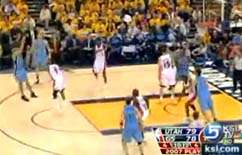 Jeff Robbins, president of the Utah Sports Commission, said, "A lot of people who may not be familiar with the area, who may not have formed opinions of the area, that may be the thing that influences them to come visit."
This particular collection of talent doesn't hurt our image, either.
Beck said, "Salt Lake has a lot of misperceptions about what it is. This is an eclectic group of people and in some ways reflects what Salt Lake is."
Plus, Beck points out, they play with heart and determination. That image becomes attached to us.
The Colonial Flag Company is flying a massive banner to show support for the Jazz. The company owner says Larry Miller can see it from his office in Jordan Commons.
Colonial Company even dug out an old box of Jazz window flags.
Dawn Rowberry says, "We've actually had these for awhile. We bought heavy, more than we normally do, because we love the Jazz. But we are cleaning them out, and right now they are in season because the Jazz are doing great."
Everybody's showing support, and it's a good thing for the whole community.
×
Most recent Utah stories