Estimated read time: 4-5 minutes
This archived news story is available only for your personal, non-commercial use. Information in the story may be outdated or superseded by additional information. Reading or replaying the story in its archived form does not constitute a republication of the story.
FREDONIA, Ariz. -- The U.S. Marshals Service announced a $10,000 reward Saturday for information leading to the capture of a man wanted for shooting and killing a Kane County deputy earlier this week.
---
I don't care if it takes three months or three years, we're going to be here until we find this guy.
–David Gonzales
---
More than 300 officers from 36 agencies are now involved in the massive manhunt for 23-year-old Scott Curley in the area of Fredonia, Ariz., and Kanab, Utah. Curley vanished after he fatally shot 41-year-old Kane County Deputy Brian Harris on Thursday.
Harris was shot Thursday while chasing Curley, who was suspected of trying to burglarize Fredonia High School and holding a janitor at gunpoint on Wednesday night. The janitor was unharmed, and Curley avoided authorities until Thursday.
A fallen deputy remembered
Kane County Sheriff Lamont Smith just wants Curley found so the focus can be turned back where it belongs: Deputy Harris.
"It's gonna be hard to replace him," Smith said. "This individual is a major, major part of this area and we'll really miss him."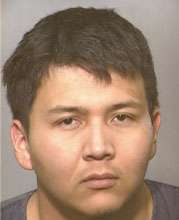 Smith has worn the uniform for decades, but it's the little blank band around his badge that nearly brings him to tears. "It's just a big hole," he said. "It's a big loss.
Smith says he wishes he could focus more on Harris's family, but right now he can't.
"I stopped by the home last night and talked to his wife," Smith said. "I apologized our efforts are focused on this individual."
The search intensifies
Meanwhile, investigators say they hope the reward will bring in new tips and leads as to Curley's whereabouts.
"I don't care if it takes three months or three years, we're going to be here until we find this guy," said David Gonzales, U.S. marshal for Arizona.
Many of the deputies involved in the search are from Kane County and knew Harris personally. "The officers are having a hard time," Smith said. "I can't keep them out of the field. They feel like they need to be out there."
A perimeter is still set up around the area where investigators think Curley is hiding. Part of the strategy Saturday was to clear some of the buildings and sheds that are scattered throughout the desert near Fredonia.
That process could take days, due to the high number of buildings in the area.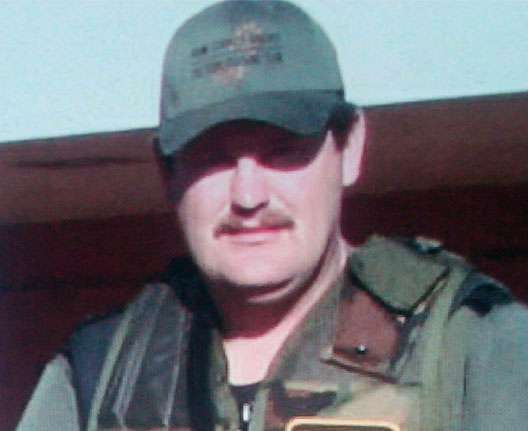 The concern is that Curley knows this area well and could have a tactical advantage in any of those buildings. Clearing them exposes officers to that risk, but one by one, those shacks and sheds are being looked at.
"The fact is, he's already killed one police officer," said Coconino County Sheriff Bill Pribil. "We believe if given the opportunity, he will kill another police officer."
Gonzales agrees. "This is a cop killer. We take all murders seriously, but when you kill a cop, it raises the stakes high because if somebody kills a cop, they will kill anybody," he said.
Officers responded to a report that someone was peeking into the windows of a house on the outskirts of Fredonia early Saturday morning, but no one was found and it's unknown if the person was, indeed, Curley.
---
It's gonna be hard to replace him. This individual is a major, major part of this area and we'll really miss him.
–Sheriff Lamont Smith
---
The reward money is just another tool officers are using to track him down.
"There is somebody out there that knows where this guy is," said Gonzales. "I hope somebody listening today or reads in the newspaper understands law enforcement, the community, needs their help."
Another concern, investigators say, is that Curley was armed with an assault rifle when he disappeared. Authorities describe Curley as a person who suffered from depression and had few friends. He is likely fatigued and hungry since being on the run, but is familiar with the wilderness near Fredonia.
Gonzales also says though there's a chance Curley isn't in the area anymore, that chance is slim because of the tight perimeter law enforcement has set up. He says it's only a matter of time before Curley is found.
On top of his duties at the sheriff's office, Harris also served on the Orderville City Council where he lived with his wife and two daughters. A candlelight vigil is planned for Monday night at the Kane County Courthouse.
Story compiled with contributions from Alex Cabrero and The Associated Press.
×
Related links
Related stories
Most recent Utah stories