Estimated read time: 3-4 minutes
This archived news story is available only for your personal, non-commercial use. Information in the story may be outdated or superseded by additional information. Reading or replaying the story in its archived form does not constitute a republication of the story.
KANAB -- A Kane County sheriff's deputy from Orderville was shot and killed Thursday afternoon, just south of the Utah-Arizona border.
The deputy was pursuing an armed man near the town of Fredonia, Ariz., which is located just a few miles south of Kanab, when the man opened fire.
---
I feel for the family of the officer today. This is a small community. Everyone knows him.
–Nick Bartlett, superintendent, Fredonia-Moccasin Unified School District
---
The deputy's name has not yet been released, pending notification of family. But those who knew him say he was well-liked and very involved in the community.
"I feel for the family of the officer today," Nick Bartlett, the superintendent for the Fredonia-Moccasin Unified School District, told the Deseret News. "This is a small community. Everyone knows him."
Melanie Spencer of Orderville told the paper she's known the deputy since he was young and that he grew up in Orderville. She said he joined the army more than 20 years ago and was in Operation Desert Storm. He joined the police force upon returning to the U.S.
"He was always happy and jovial. He was just kind to everyone," Spencer said. "Everyone around here liked him."
The Coconino County Sheriff's Office in Arizona says dozens of officers from various Utah and Arizona agencies have been sent to the scene to search for the suspect. Three helicopters -- one from the Utah Department of Public Safety and two from the Arizona Department of Public Safety -- are also involved in the search.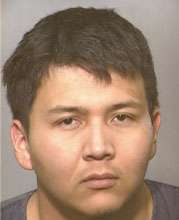 Coconino sheriff's representative Erika Wiltenmuth says the chase started in Utah and crossed into Arizona. The deputy was shot just after 2:20 p.m. Arizona time.
The suspect, identified as 23-year-old Scott Curley, took off into desert after the shooting occurred. SWAT teams have been searching for him ever since.
Searchers believe Curley is somewhere two to three miles into the desert. The low visibility of the night is making it hard for them to locate him, and we don't yet know if they have a containment area set up.
Coconino sheriff's deputies say Curley is obviously armed and dangerous. In fact, they say he has fired on officers at least twice during their pursuit.
Officers actually began searching for Curley Wednesday night after he allegedly pointed a gun in the face of a custodian at a Fredonia school, Bartlett said.
The night custodian was walking around the elementary wing of the K-12 school at about 10 p.m. to lock doors when he ran into a man with a weapon described as a long-barreled rifle.
"He didn't detain my custodian very long, just a moment or so," Bartlett told the Deseret News. "He told my custodian to get out of there."
The custodian called police but officers were unable to locate the gunman.
The Utah deputy spotted Curley Thursday afternoon and was attempting to take him into custody when he was killed.
KSL News has learned that Curley does have a criminal history, which includes trespassing, assault and disorderly conduct -- nothing as serious as what he is accused of now.
Law enforcement will continue searching for Curley through the night.
The slain deputy leaves behind a wife and two children.
-----
Story compiled with contributions from Alex Cabrero and The Deseret News.
---
×
Photos
Most recent Utah stories