Estimated read time: 4-5 minutes
This archived news story is available only for your personal, non-commercial use. Information in the story may be outdated or superseded by additional information. Reading or replaying the story in its archived form does not constitute a republication of the story.
SALT LAKE CITY -- Economists and business leaders see both glimmers of hope and signs of trouble in a choppy economy. They say the outlook is a mixed bag.
Utah is in better shape than most states -- but certain areas of the economy, like the housing market, are holding back the recovery.
Economic positives and negatives in Utah
A lot of the latest national economic news is confusing, because every piece of good news seems to be followed with bad. The same is true for Utah.
One of the biggest positives in the Utah economy is job growth. Between July 2009 and July 2010, employment in Utah has gone up 1.5 percent. That's more than 17,000 new jobs created.
University of Utah economist Jim Wood says given the nation's economy, that's noteworthy.
"There are not a lot of states that can say that," he said. "That's really fundamental that we've got that job growth."
Job growth occurred in almost every sector: education, health, professional services, leisure and hospitality, and more.
Another plus is that retail and car sales -- a major source of local and state tax revenues -- appear to have stabilized.
Still, a new poll of Utah business leaders by Dan Jones and Associates finds most executives remain guarded about the financial futures of their companies.
"I think we're in a holding pattern right now," said pollster Pat Jones. "It seems like business leaders are cautiously optimistic, but they're being very careful about hiring and investing and those things right now."
Among the negatives: falling numbers of jobs in manufacturing and construction and deep concerns about the housing market, including foreclosures and bankruptcies.
Consider a new report on negative equity, often referred to as being "under water" or "upside down," which is when borrowers owe more on their mortgages than their homes are worth.
The report finds 19 percent of residential properties in Salt Lake City have an underwater mortgage underwater; another 6 percent were in near negative equity.
"There's definitely signs that there's a lot of stress for households," Wood said.
Many economists believe 2011 will be a better year, but most caution that with some of the larger problems in the economy, growth is likely to be modest and slow.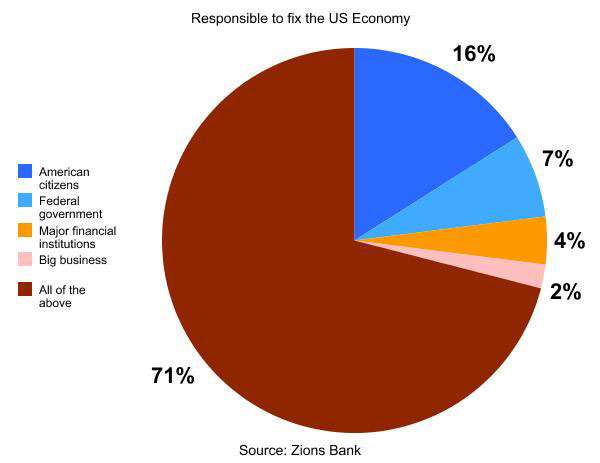 "We've got some positives, but it's still a very fragile economy," Wood said.
Business leaders' optimism wanes
It could be another predictor of a double-dip recession. Just as it was at the start of the recession, optimism is waning again among Utah business leaders.
The latest quarterly economic forecast from Zions Bank found fewer executives in the state reporting high levels of optimism.
"We were seeing things go up a little bit, and then it was like, 'Nah, maybe not,'" says Julie Olsen, market research analyst for Dan Jones & Associates.
The firm polls business leaders every quarter, and has since the second quarter of 2006, to gauge the health of Utah's economy. According to Olsen, 62 percent of the panelists reported high levels of optimism at that time -- ratings of 8, 9 or 10 on the 10-point scale.
"During that time, for the first five quarters, more than half of all the business executives that we've been interviewing rated their optimism about the financial future of their companies very high," Olsen says.
Things changed at the start of the recession, in the third and fourth quarters of 2008.
"It got to its lowest point in the end of 2008," she continues, "and we started watching things trend upward again until last quarter. Then this quarter they started to drop off again."
The optimism levels still aren't at the all-time low they reached in 2008. In the second quarter of 2010, just 30 percent of those surveyed reported the high levels of optimism, but in the third and fourth quarters of 2008, it reached 14 percent.
This quarter, Dan Jones & Associates also asked the executives to think of the most important thing the state legislature can do to help improve the economy.
"The highest percentage, or 29 percent of all the executives, mentioned something about controlling or reducing taxes and fees," Olsen says.
Another 13 percent suggested attracting and bolstering Utah businesses, and 10 percent cautioned against over-regulation.
------
Story compiled with contributions from John Daley and Becky Bruce.
×
Related links
Most recent Utah stories