Estimated read time: 4-5 minutes
This archived news story is available only for your personal, non-commercial use. Information in the story may be outdated or superseded by additional information. Reading or replaying the story in its archived form does not constitute a republication of the story.
PROVO -- Nathan Herbert, the son of Gov. Gary Herbert, is accused of stalking a Utah County woman. The 39-year-old was in 4th District Court in Provo Wednesday morning for a hearing in a civil stalking case.
Family says stalking began with years ago with family member
Earlier this month, 26-year-old Aiona Butters filed a request for a civil stalking injunction against Herbert. The woman declined to comment Wednesday morning, but outside the courtroom her parents told reporters Herbert has been stalking the woman and her older sister for years.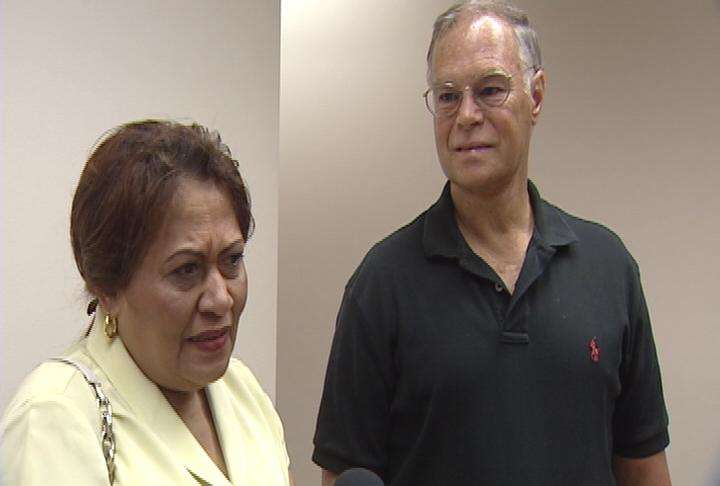 The sister, Talei Weingarten, went on one date with Herbert several years ago. They family says the pair never dated again, but that stalking of both women has continued for years -- allegations neither Herbert nor his attorney addressed.
Talei Weingarten had previously been granted a stalking injunction against the governor's son. Butters' parents said Nathan Herbert began stalking Butters after her sister moved to Hawaii. They said the stalking has gone on for years.
"He just seems to know where they're going to be (and) when, and then shows up and just constantly stares and ogles and touches himself and does different things that are, you know, frightening to a young woman," said Bob Weingarten, the alleged victim's father.
"It's just a repeated offense that needs to be stopped, and I think it needs to be stopped by the family intervention. The family needs to intervene. It's one of those unfortunate things," said Maraia Weingarten, the alleged victim's mother.
Nathan Herbert has a court record that includes disorderly conduct and a dismissed assault charge. He was also charged with criminal stalking in the 2005 case against Talei Weingarten, but that charge was dismissed in 2008. He made a plea in abeyance in that case, meaning he had to agree to certain conditions to have the charge dismissed. That included completing a life skills course and not having any contact with her.
---
Nathan is an adult. He is my son, and I have confidence in him, and I stand by him. Beyond that, I will not comment on these allegations.
–Governor Gary Herbert
---
The alleged victim's family worries things could turn dangerous.
"It could be. It's bordering there if it doesn't stop," Maraia Weingarten said. "I mean, this has been many years."
Attorney requests court records be sealed
Herbert and his attorney, Scott Card, declined to comment after leaving the courtroom, but in a statement sent to KSL, Card said, in part, "Earlier today, the case of Aiona Butters versus Nathan Herbert was classified "sealed" by the District Court Judge. Despite that ruling, family members of Ms. Butters have taken it upon themselves to disparage Mr. Herbert in the media. It will soon be shown in a court of law that the allegations against Mr. Nathan Herbert are malicious and false." [To read the entire statement click here.]
Card asked Judge James Taylor to seal the court record. After discussing the matter with both sides, without the public or media present, the judge set a hearing for Oct. 15 regarding whether the court records would be made public. The records have been temporarily sealed until then.
"I can understand not publicizing the details and whatnot, but we're trying to help him so that he doesn't do it again," said Maraia Weingarten.
First Amendment attorney Jeff Hunt says he's already been contacted by media outlets likely to fight for the records to be public. He says those efforts to seal records often fail and generate more interest in a case.
"Sometimes attempts are made in high-profile cases to limit access to information that is perceived to be embarrassing or particularly troublesome. That may or may not be the case here," Hunt said.
Embarrassment alone is normally not a strong enough reason to seal records, however.
"Those efforts are almost always counterproductive," Hunt said. "Embarrassment is not a sufficient standard to close the courtroom. If that were the standard, there would be a lot of criminal and civil cases sealed in the state of Utah."
Many hope the case will remain a personal matter
Political analyst Kirk Jowers predicts Nathan Herbert's case will have no effect on the election.
"There's no political gain here, and I would expect everyone to keep hands off," he said.
The governor's Democratic opponent in the upcoming election, Peter Corroon, has no comment on the case.
Gov. Gary Herbert's spokeswoman released a statement Wednesday on behalf of the governor, saying: "Nathan is an adult. He is my son, and I have confidence in him, and I stand by him. Beyond that, I will not comment on these allegations."
While still pursuing legal avenues, Butters' family is still hoping the issue will be dealt with on a personal level.
"We don't want to destroy anybody. It's just that it needs to be addressed," said Maraia Weingarten. "It really just needs to be addressed at the personal level, family level."
------
Story compiled with contributions from John Daley, Richard Piatt, Paul Nelson and the Associated Press.
×
Related links
Most recent Utah stories