Estimated read time: 2-3 minutes
This archived news story is available only for your personal, non-commercial use. Information in the story may be outdated or superseded by additional information. Reading or replaying the story in its archived form does not constitute a republication of the story.
John Hollenhorst ReportingAre you ready for a warm and fuzzy Mother's Day story? This one is really fuzzy.
It's the story of a mother and her daughter, who is two years old this week. They had to be taught to love each other. This report comes from -- you guessed it -- Hogle Zoo.
Eve and Acara do what comes naturally for most orangutans: baby clings to mom.
The zoo's great-apes keeper, Bobbi Gordon, said, "The first time that we saw it, I mean, there were almost tears in our eyes."
That's because it wasn't that way two years ago. Newborn Acara was afraid of her mom. Eve didn't even know what her baby was.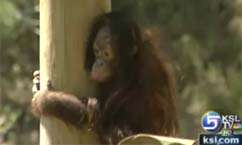 "We had to teach Eve basically how to be a mom," Gordon said.
Maternal instincts didn't kick in because the birth was unnatural, an emergency C-section. When Eve awoke from anesthesia, she didn't know where the new little creature had come from.
"Eve would not come near her," Gordon said.
They lured Eve to Acara with food.
And here's the warm and fuzzy part: zoo workers and volunteers put on furry vests. For her first nine months, Acara spent 24 hours a day with people, learning to drink from a bottle.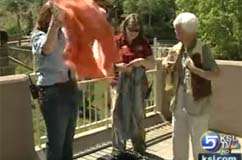 "The purpose of that was to teach Acara how to hold on. Orangutans very early on learn to hold onto their moms. Mom doesn't hold them," Gordon explained.
Probably the biggest challenge for the people was not to get too attached to a baby as cute as Acara.
We asked zoo volunteer Pat Meekins if she bonded with the baby.
"I did, but I tried not to let her know," she admitted.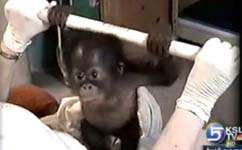 They were under orders not to bond, so Acara would bond later with her real mom.
"It was very difficult," Meekins said. "She looks up at you with those soft little brown eyes and that cute little face. It was just so human-looking."
Volunteer coordinator Suzanne Blockburger agreed. "It was really, really hard," she said, "because she's on you the whole time, and you just want to hug her."
The long effort didn't create a perfect mother-daughter bond; it was more like big sister-little sister. That's pretty much the best they could hope for.
Gordon said, "Every time that we see them together, and know that they're together, and how far we have come, I think it's amazing."
So in the end, we can truly say, "Happy Birthday, Acara." And to Eve, "Happy Mother's Day!"
This case is believed to be the only time that an orangutan mother's first baby was born by C-section.
By the way, some people say "orangutang." I say "orangutan." Many dictionaries allow both pronunciations. But in zoo country, "orangutan" is the standard.
×
Most recent Utah stories