Estimated read time: 6-7 minutes
This archived news story is available only for your personal, non-commercial use. Information in the story may be outdated or superseded by additional information. Reading or replaying the story in its archived form does not constitute a republication of the story.
A number of key players were held out of this morning's 60 play scrimmage--traditionally the final scrimmage of camp. Today's LaVell Edwards Stadium exercise comes exactly two weeks before BYU's season opener with Washington.
*******
You can hear post-scrimmage interviews with head coach Bronco Mendenhall, QB Riley Nelson and CB Brian Logan by clicking the "play" button in the "Cougar Cuts" box to the right.
Mendenhall delcares the QB race between Nelson and Jake Heaps still "dead even." Heaps got four series today, while Nelson got three; Heaps' drives ending in a field goal and three punts, Nelson's drives leading to a touchdown and two punts.
*******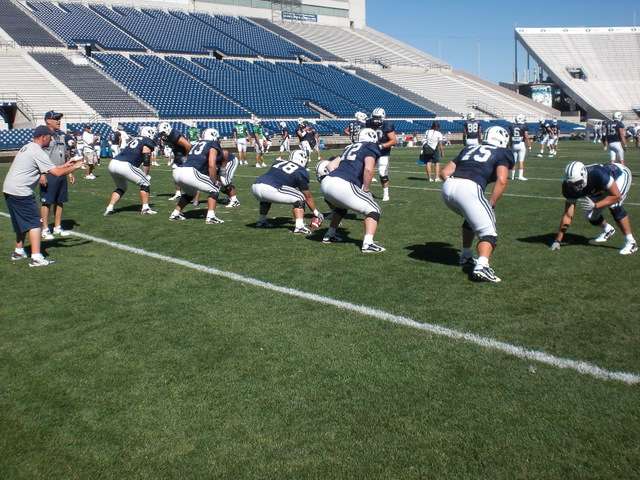 First stringers not scrimmaging today:
OL Matt Reynolds
OL Terence Brown
WR McKay Jacobson
RB J.J. DiLuigi
RB Bryan Kariya
NT Romney Fuga
LB Jordan Pendleton
S Andrew Rich
S Steven Thomas
Meantime, QB Riley Nelson was "live" (no green jersey) for the first time in camp. There are so many designed Riley runs in the BYU offense that the coaches and players need to get a feel for how these calls actually "play out" when the QB can be hit.
********
Players in a projected two-deep not practicing due to injury:
OL Waltern Kahaiali'i (knee)
WR Cody Hoffman (hamstring)
TE Mike Muehlmann (shoulder)
FB Algernon Brown (ankle)
CB Robbie Buckner (broken hand)
You will note that the Buckner injury is new; he broke his hand during Friday afternoon's helmets-only practice. He will have surgery next week, and be in a cast for up to four weeks. He is "possible" for the Washington game. DeQuan Everett and Dalin Tollestrup are the healthy field corners behind Brian Logan.
*******
Bronco Mendenhall declared the scrimmage a "great, great chance to get a look at a ton of guys."
Let's take a look at the scrimmage, series by series--
--
Series 1: Jake Heaps (ones v. ones)
Five plays; drive ending in a Mitch Payne 46 yard field goal. Key play: 24 yard reception by Richard Wilson.
--
Series 2: Riley Nelson (twos. v. twos)
Three-and-out; 3rd down reception by Hafoka short of the marker, PUNT.
--
Series 3: Riley Nelson (ones v. ones)
Six plays; 3rd down incompletion, PUNT.
--
Series 4: Jake Heaps (twos v. twos)
Three-and-out; 3rd down sack by Matt Putnam, PUNT.
--
Series 5: Jake Heaps (ones v. ones)
Three-and-out; Quezada drops perfectly thrown seam ball on 3rd down, PUNT. First play of the drive was a loss of 12 yards on a bad snap by Houston Reynolds (starting center Terence Brown DNP).
--
Series 6: Riley Nelson (twos v. twos)
11 plays; drive ending with a 6-yard TD pass to Richard Wilson, Payne PAT good. Drive included Nelson running on four consecutive plays for 22 yards; first of the four runs was an improvisation after another bad snap. Rhen Brown had two catches for 30 yards on the drive.
--
Series 7: Jake Heaps (ones v. ones/twos/threes)
Five plays; 3rd down incompletion, PUNT.
--
Series 8: James Lark (twos v. twos/threes)
Eight plays; drive ending with a 9-yard TD pass to Marcus Mathews, Payne PAT good. After a Lark-to-Apo 32 YAC play was called back on holding, Lark found R. Brown for 32 yards.
--
Series 9: Jason Munns (threes v. threes)
Six plays; 3rd down incompletion, PUNT.
--
Series 10: Jason Munns (threes v. threes)
Nine plays; 45-yard Payne FG blocked.
--
*******
QB Stats--
Heaps: 8/11, 55 yds;
Nelson: 9/13, 69 yds, TD; 6 rushes, 39 yds\
Lark: 4/4 72 yds, TD
Munns: 7/11, 68 yds
--
Receiving stats--
Wilson: 3 rec, 51 yds, TD
Mathews: 3 rec, 36 yds, TD
R. Brown: 4 rec, 65 yds
--
*******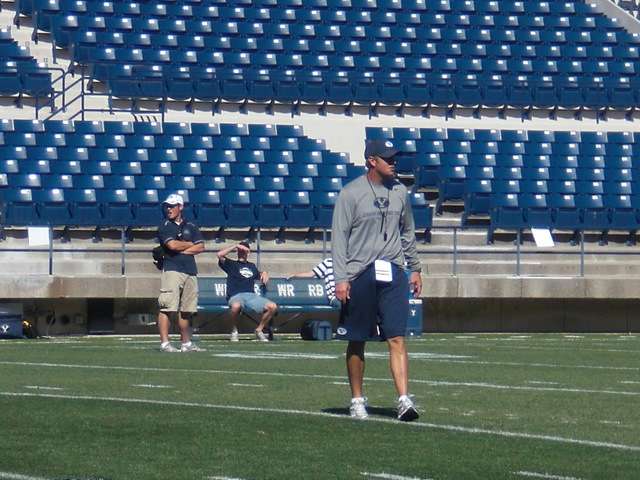 While the coaches' video will tell them a lot about depth chart decisions (in the second-unit, primarily), there wasn't a lot to glean from today's scrimmage relative to a first-string, gameday simulation.
With so many #1 guys held out, this wasn't the team we will see against U-Dub on September 4th.
It was a chance to see Riley Nelson face some live ammo today, and I thought he responded well. As he stated in his post-scrimmage interview, he gives the offense the chance to gain yards when a play breaks down, not to mention during his called draws and option keeps.
Whether or not he starts against the Huskies, the coaches will have to use Nelson; he's simply too valuable a yard-gaining option not to utilize.
*******
More from Mendenhall in today's post-scrimmage interview--
On the scrimmage itself: "We got accomplished what we needed to."
On taking the green jersey off Nelson: "We thought the risk was worth it."
On the performance of safeties Galea'i and Uale with the 'ones': "Not enough plays being made."
On the offense: "We're capable, just not consistent."
On the QB race: "With Riley and Jake, it's dead even."
On whether he will go into game week before making a QB decision: "I think so."
On whether there might be one more scrimmage on Wednesday: "Hard to say; if we do anything Wednesday, it will likely be youth emphasis."
Mendenhall says the Washington game plan will start going in and scout team decisions will be made on Thursday.
*******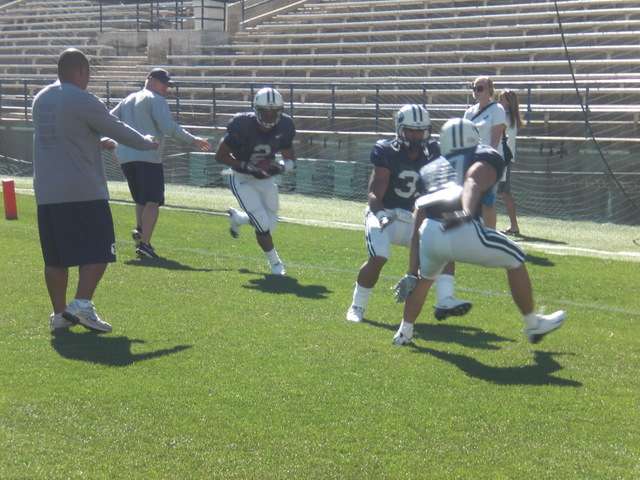 Day 13/Scrimmage Depth Chart
Today's two-deep reflects ONLY players who played today and today's lineups (this differs from the regular two-deep):
OFFENSE
QB: Jake Heaps OR Riley Nelson
TB: Josh Quezada, A.J. Moore
FB: Zed Mendenhall, Ryan Folsom
Combo: Mike Hague
TE: Richard Wilson OR Devin Mahina OR Marcus Mathews OR Austin Holt
WR-H: Matt Marshall, D.J. Doman
WR-Z: Luke Ashworth, Rhen Brown OR Ross Apo
WR-X: O'Neill Chambers, Spencer Hafoka
LT: Braden Hansen, Cole Jones
LG: Jason Speredon, Ryan Freeman
C: Houston Reynolds, Blair Tushaus
RG: Nick Alletto, Marco Thorson
RT: Braden Brown, Jordan Black
--
DEFENSE
LE: Eathyn Manumaleuna, Matt Putnam, Graham Rowley
NT: Jordan Richardson, Travis Tuiloma
RE: Vic So'oto, Thomas Bryson
SLB: Jameson Frazier, Zeke Mendenhall
MLB: Shane Hunter, Zac Stout
BLB: Aveni Leung-Wai, Brandon Ogletree OR Austen Jorgensen
WLB: Kyle Van Noy, Alani Fua
FC: Brian Logan, DeQuan Everett
BC: Brandon Bradley, Corby Eason
Kat: Jray Galea'i, Carter Mees
FS: Travis Uale, Landon Jaussi
--
*******
A reminder for you all to notice the new look for "Cougar Tracks" and the new BYU Sports page: byu.ksl.com
Among the new features is the updated show page for "BYU Football with Head Coach Bronco Mendenhall," Presented by Ken Garff University Parkway Dealers.
On the page, you can request seats at the next "live" broadcast from the President's Loge at LaVell Edwards Stadium, pose e-mail questions for the coach, and even share what we're calling "Cougar Stories."
Additional features of the new byu.ksl.com page include live scores and a BYU stats tab. You still get the BYU features to which you've already grown accustomed at ksl.com (including "Cougar Tracks"), but everything just looks better!
The NEW byu.ksl.com; bookmark it now!
*******
Follow me on Twitter: twitter.com/gregwrubell
*******
×
Most recent Sports stories