Estimated read time: 3-4 minutes
This archived news story is available only for your personal, non-commercial use. Information in the story may be outdated or superseded by additional information. Reading or replaying the story in its archived form does not constitute a republication of the story.
DRAPER -- Many Draper residents spent the day Friday cleaning up after Thursday's severe rainstorms. The rainfall set records for five-, 10- and 15- minute amounts. It was just too much water for the mountainside in the Corner Canyon area.
Two summers ago there was a wildfire in the area, which burned all the vegetation and made the soil unstable. So whenever it rains hard, the water comes down with not much to stop it.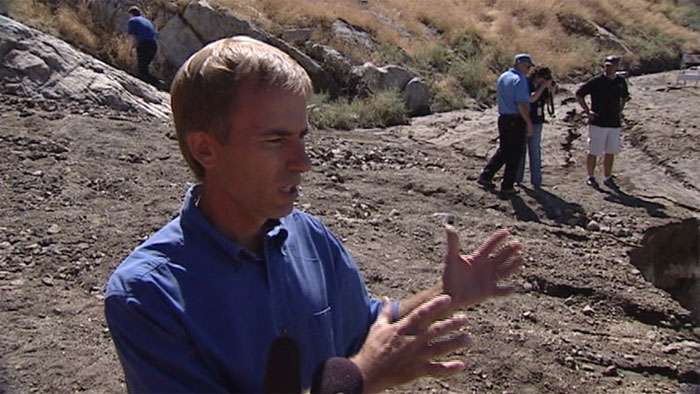 When mud clogged a culvert, the water rushed over it Thursday and continued down the mountain into Draper neighborhoods below.
As soon as he saw all the water and mud coming down, Draper resident Joey Wilkinson knew Friday would be a busy day.
"I'll just work until I have to get ready for work, and then start again tomorrow," he said.
Residents in the Steeplechase area spent Friday cleaning up the mess the storm left behind.
The idea was to shovel mud and debris to the side of the road where the city picked it up. It's not the easiest job, but in just one full day it already looks better.
"I'm tired, yeah. I'll probably give up here in a little while," said resident Jennifer Nipp. "The whole street was full of mud, and the van had mud up to its tires."
Still, it could have been worse if not for work Draper City did in the past two years on the mountainside.
Corner Canyon closed by Forest Service
Due to recent flooding, the U.S. Forest Service has closed the Corner Canyon area, east of Draper, until further notice. That includes all trails and the Upper Corner Canyon Road. Rangers say heavy equipment crews are cleaning and fixing flood control structures and they need to temporarily close the area for safety reasons.
For example, a culvert at Bear Canyon above Draper is relatively empty. In contrast, the culvert at Cherry Creek -- where the mud and water came down -- is clogged full, which kept a lot of debris from flowing down into homes.
Draper's public works director Dave Decker says a lot of work was done up in the canyons after the 2008 wildfire, knowing these rainstorms are going to continue to be a problem.
"It did its job for this storm," Decker said.
Brian McInerney, a hydrologist with the National Weather Service, says because the wildfire burned vegetation on the mountainside it's going to take a while before it grows back.
"Typically, these burn scars take about five years to heal," he said. "We're in year two right now."
Unfortunately for residents, that means debris flows whenever there is heavy rain.
"Rain is good, just not so much at once," Wilkinson said.
That sounds like bad news, but McInerney says there is good news.
Typically, the worst year for debris flows after a wildfire is in the second year. He says after this summer the conditions should only get better, so residents won't continue to get mud flows like this after record rainfalls.
E-mail: acabrero@ksl.com
---
×
Photos
Related stories
Most recent Utah stories