Estimated read time: 2-3 minutes
This archived news story is available only for your personal, non-commercial use. Information in the story may be outdated or superseded by additional information. Reading or replaying the story in its archived form does not constitute a republication of the story.
Sam Penrod ReportingDet. Jay Thornton, Pleasant Grove Police Dept.: "This makes you look like the guilty person, all the product being stolen from these companies are being shipped to your home."
This stash of stolen property is part of an international theft ring that somehow made its way to Pleasant Grove, Utah. Police say a Pleasant Grove woman unknowingly was the middle man in a credit card fraud and internet sales scam.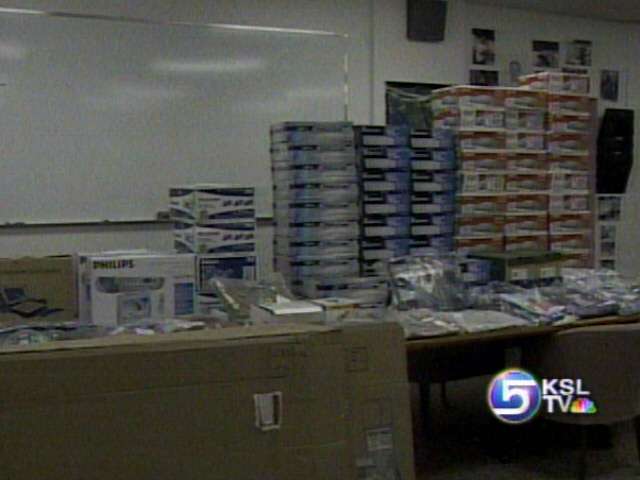 The ringleader would order property with fake credit card numbers then send the stuff to her home. She'd pack it up and send to Africa. The woman met a man from England over the internet a year ago, in what seemed to become a romantic relationship. Four months ago he asked her for a favor. And until police knocked on her door, she had no idea she was an accomplice to an international crime spree.
The evidence room at Pleasant Grove Police Headquarters is full with stolen items recovered from a woman's home.
Det. Jay Thornton, Pleasant Grove Police Dept: "This lady is a single mom with three kids and been divorced for a short time; she met this guy on a yahoo chat line."
But the man she emailed for more than a year and never met in person recently asked for some help, shipping American merchandise to his business in Africa.
Det. Jay Thornton, Pleasant Grove Police Dept: "Had just purchased items online through several different companies, shipping UPS to her home, and then made arrangements through FedEx from the drop off point to a business in South Africa."
The man even sent the woman pre-paid shipping labels and large cardboard boxes. Detectives say he fraudulently used several American Express accounts to buy all of this, and had it shipped to Pleasant Grove.
Det. Jay Thornton, Pleasant Grove Police Dept: "Packages were being delivered to this home, up to 66 a day."
Detectives recovered all of this merchandise, including 63 DVD players, but say this was just a small portion of what was stolen. The woman already shipped out five big boxes to South Africa.
The biggest victim was Wal-Mart's online store, to the tune of eleven thousand dollars. Police say the man did offer to order and pay for items out of catalogs that the woman needed in return for her help.
Det. Jay Thornton, Pleasant Grove Police Dept: "It seemed legitimate to her, but as more and more packages arrived, it was overwhelming for her the amount of stuff, she got a little suspicious."
Detectives are trying to pursue the suspect overseas, but more importantly want to shut down what he is doing. As for the Pleasant Grove woman, no charges will be filed since it is believed she had no idea what she was doing was illegal.
×
Most recent Utah stories