Estimated read time: 2-3 minutes
This archived news story is available only for your personal, non-commercial use. Information in the story may be outdated or superseded by additional information. Reading or replaying the story in its archived form does not constitute a republication of the story.
Tonya Papanikolas Reporting Across the nation and here in Utah, kids are car surfing, meaning they are being pulled by a car while on a skateboard. "I think too often young people don't put enough thought into the consequences that their actions may have," says Detective Jeff Bedard of the Salt Lake City Police Department.
And the fact that it's illegal isn't deterring kids.
Monday a 20-year-old was critically injured while car surfing in Salt Lake. Unfortunately, Rusty Hanes didn't have his head protected when he was skateboarding alongside his friend's Jeep in the Avenues. According to Detective Bedard, "At some point while the Jeep was moving the victim fell off the skateboard and hit his head on the ground." Hanes has been in critical condition at LDS Hospital. Doctors hope other young car surfers will take his example to heart.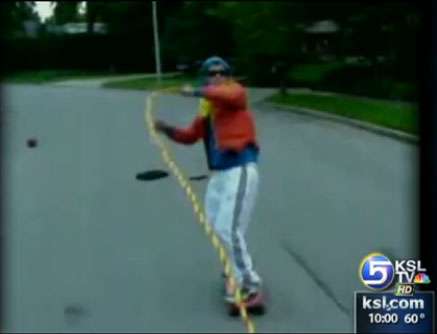 Car surfing isn't a new thing. In the '80s, the movie "Back to the Future" featured Marty McFly riding a homemade skateboard behind a truck, and 27 years later the activity is still amusing young adults.
We found four car surfing videos on YouTube. In three of them the skateboarder is hanging onto the back or side of a moving car. One young man eventually lets go and wipes out going 35 miles an hour. Another thrill-seeker holds on with a rope while his friends throw various objects at him. He also takes a fall on the road.
While these kids might think it's just a fun pastime, injury prevention specialists say the dangers shouldn't be ignored.
Injury Prevention Coordinator Gary Mower of the Department of Health warns, "You can lose your balance, you can hit something in the road, the driver could move the car one way or the other and make you lose your balance or get hit by a car."
Emergency Medicine Chief Dr. Erik Barton of the University Medical Center says it's extremely easy to get injured doing activities like this. He's seen it firsthand. "We see a lot of high-risk activity that ends up in brain injury because of the lack of helmet and protective gear."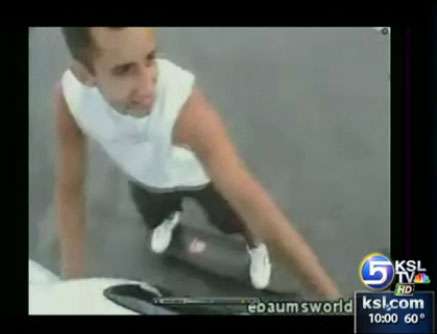 Most of the time, skateboarders who are hospitalized are not wearing helmets.
Dr. Barton cautions, "Think before you act. Don't do something that seems like it's going to be a stupid idea because it probably is." After all, life doesn't tend to turn out like it does in the movies.
Investigators are screening possible charges against the 20-year-old driver in the Avenues.
×
Most recent Utah stories