Estimated read time: 2-3 minutes
This archived news story is available only for your personal, non-commercial use. Information in the story may be outdated or superseded by additional information. Reading or replaying the story in its archived form does not constitute a republication of the story.
OREM -- Utah Valley University is stepping up to help a student who faces a mountain of medical bills and a difficult recovery after being beaten and raped earlier this summer.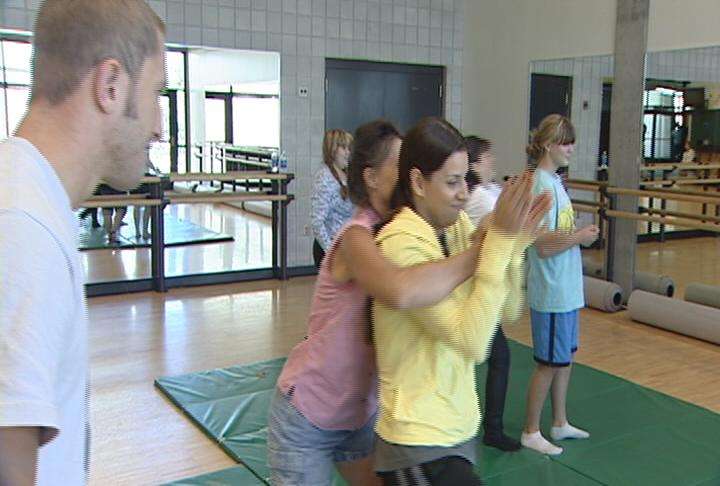 Proceeds from everything purchased at a rummage sale held Tuesday at UVU will help the student known as the Provo Survivor.
"Today we made $2,000 for her," said UVU professor Rod Hammond.
But that's not a lot when you consider what the attack is costing the student and her family.
"They've already incurred $200,000 in medical expenses, and there's going to be a lot more," said Bob Freeze, a spokesperson for the victim.
In June, the 19-year-old woman was attacked while walking on a trail near her apartment. She was beaten badly, raped and left for dead.
Police arrested Shawn Leonard for the crime. He had walked away from a jail work release program the day before the attack. Leonard now faces charges of attempted aggravated murder, aggravated kidnapping and aggravated sexual assault.
The woman survived by crawling to a sidewalk for help.
"So many students have expressed it's hard to fathom something could happen to a fellow student," Freeze said.
This is how those students are helping: by holding fundraisers, lectures and special self-defense classes.
Hammond, who had never met the rape victim, organized the events.
What is... the Utah Victim Reparation Fund?
The Utah Victim Reparation Fund provides financial assistance to victims of violent crime and family members of those victims who have suffered physical and psychological injury. The maximum award for homicides, attempted homicides, aggravated assaults and DUIs is $50,000. The maximum award for all other crimes is $25,000. -Utah Office of Crime Victim Reparations
"When the attack happened my students and I took about 20 minutes of class time and talked about it, and decided we wanted to do something," he said.
Hammond has since met the young woman and her family.
"Her mother said she has recovered faster and better than anyone thought, but she has a lot to overcome still," he said.
It's expected it will cost another $150,000 in medical bills. Hammond and his students hope their contribution helps.
"People want to do something, and this has given us a chance to stand together and do something for her," he said.
Two accounts for donations have been set up under the name Provo Survivors Fund at Zions Bank and Utah Community Credit Union.*
E-mail: abutterfield@ksl.com
---
*KSL.com has not verified the accuracy of the information provided with respect to the account nor does KSL.com assure that the monies deposited to the account will be applied for the benefit of the persons named as beneficiaries. If you are considering a deposit to the account you should consult your own advisors and otherwise proceed at your own risk.
×
Related stories
Most recent Utah stories