Estimated read time: 3-4 minutes
This archived news story is available only for your personal, non-commercial use. Information in the story may be outdated or superseded by additional information. Reading or replaying the story in its archived form does not constitute a republication of the story.
Ed Yeates ReportingThe ever-expanding recall of pet foods over the past several months has created a major wave of distrust among pet owners. In fact many are preparing their own pet foods at home -- a practice that worries veterinarians.
Most pet owners never paid much attention to recipes on over-the-counter products until dogs and cats started showing up in animal ERs with apparent kidney failure.
Jane Patten and Pete Nixon make their own pet food.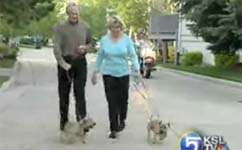 The formula is based on considerable research and conversations with others who've been doing this for some time.
"For us, it was just one more thing we couldn't take for granted anymore," Pete said. "It was a wake-up call."
Once a week, Jane mixes premium meat, brown rice, vegetables and protein dairy products acceptable for dogs. She gives Sundance and Bandit their portions each night, and stores the rest in the refrigerator.
"We realize this is one more thing we have to investigate ourselves and just not take the marketer's word for it," Jane said.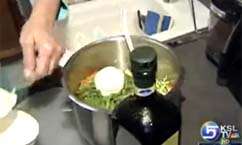 By marketers she means the manufacturers of pet foods, many of whom have recalled products with wheat and rice gluten possibly tainted with melamine. But Pete claims pet nutritionists have long discouraged the use of wheat gluten in general.
"It's one of those things. It's like a food extender or helps the shelf-life," he said. "But it has no nourishing value to it at all."
Diane Sanders has been preparing homemade food for her dogs for more than eight years now. In fact, she owns a shop that sells the recipes. It's called Ma and Paws Store.
"Feeding this way is a lifestyle choice. It is not meant for everyone. It doesn't fit into everyone's time frame," she said.
Grain, mineral and supplement mixes that balance calcium and phosphorous, herbal preparations, vitamins, avocado oil for skin and coat - all formulated for pets - ready to be mixed into meat. In this case, it's mixed into a lamb and vegetable patty, which Diane prefers for Trevor and Peanuts.
Diane's recipes might cost twice as much as premium pre-prepared pet food. Pete and Jane's mix runs about the same as a premium product.
But a warning to owners who stray from proven formulas: Veterinarian Gary Peterson say calcium-phosphorous imbalances can cause pancreatitis in dogs. Lacking an ingredient like tarring triggers cardiac failure and blindness in cats. Grapes can kill a dog. Raisins do the same thing.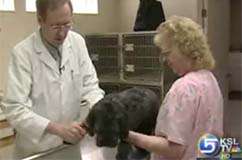 Dogs love chocolate, but Dr. Peterson says it's not good for them. "It's just like they're overstimulated. It's like giving amphetamine. [It's] too much hype on their cardiac system."
Too little or too much vitamin K or D causes clotting and bone problems. Dr. Peterson remembers one dog that ate liver all the time. "We could virtually bend this dog's bones because the imbalance of calcium-phosphorus had just made his bones all soft."
Veterinarians say preparing homemade pet foods can be tricky. Even something as simple as a common sweetener in baked goods has been linked to liver failure in dogs.
For more information see the links in the box on this page.
Recipe: Bandit and Sundance Dog Food
Cook 1 1/2 cups of brown rice
Brown 1 to 1 1/2 lb. of ground turkey or lean ground beef
Mix with:
Grated vegetables such as carrots, zucchini, green beans, broccoli
Cup of plain yogurt or cottage cheese
2 Tbsp. olive oil
Store in the refrigerator or freeze until needed. We mix this with a little Natural Balance Kibble. This is enough for our two puppies for about a week.
×
Related links
Most recent Utah stories