Estimated read time: 2-3 minutes
This archived news story is available only for your personal, non-commercial use. Information in the story may be outdated or superseded by additional information. Reading or replaying the story in its archived form does not constitute a republication of the story.
SALT LAKE CITY -- An unexplained spike in disasters during the past month kept the American Red Cross in Utah extremely busy. Even without a single major disaster, many of our neighbors faced extraordinary challenges.
When there's a big disaster like a tornado, flooding or wildfires, we usually recognize and take notice of the response of the American Red Cross. But emergency volunteers responded to smaller-scale disasters nearly every day during July to help more than 250 Utahns in crisis.

How You Can Help
Help people affected by disasters like these Red Cross responses by donating to your American Red Cross local Chapter. CLICK HERE to donate.
Intense flames from a fire at Royal Ridge Apartments in Midvale forced nearly 20 people out of their homes July 21. They fled their apartments in the middle of the night. Many lost everything.
American Red Cross Communications and Marketing Director Susan Thomas says she has never seen so many responses in one month.
"We just are always prepared and always ready to go help people," she says.
Just a day before the Midvale fire, a a blaze in West Valley City chased 25 people from their apartments. Later that same week, a raging fire in Salt Lake City destroyed a home.
"Normally, we get about two responses a week," says Thomas. "This past month, we almost had a response every single day."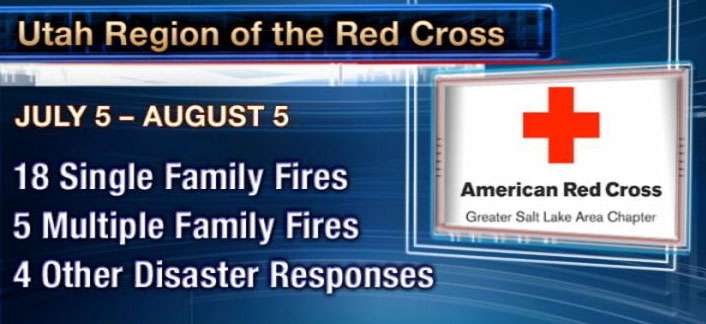 The American Red Cross helped 261 Utahns with food, shelter and clothing after 27 disaster responses during the past month.
"They're on the sidewalk watching their house burn," says Thomas. "They're traumatized, they don't have on shoes, they're in their pajamas. Their wallets, their credit cards, their cells phones, their purses up in smoke."
On the scene of the disasters, Red Cross volunteers give out comfort kits, which include everything from a washcloth, toothbrush and shampoo to toys and stuffed animals for the kids. The kits are ready to help disaster victims with their most immediate needs.
From July 5 to Aug. 5, the Utah Region of the Red Cross reports it responded to 18 single family fires and five multiple family fires. Red Cross volunteers also responded to four other disaster scenes to help emergency workers with water and snacks.
"Our teams are able to get there, be there, give them a shoulder to cry on, and give them some hope and give them some help," says Thomas.
Corporate and foundation donations are down in the Utah Region of the Red Cross. Public giving remains steady.
You can donate by logging on to www.redcross.org.
E-mail: jboal@ksl.com
×
Related links
Related stories
Most recent Utah stories