Estimated read time: 1-2 minutes
This archived news story is available only for your personal, non-commercial use. Information in the story may be outdated or superseded by additional information. Reading or replaying the story in its archived form does not constitute a republication of the story.
Ashley Hayes Reporting Utahns love their dogs. But that doesn't necessarily mean they love their dogs' behavior.
Ashley Hayes and her dog, Scout, fall into that category. Scout's a lovable pooch, but he forced Ashley to call in the reinforcements. She and her sister, Samantha, called in the Bark Busters.
You could say there are some ups and downs to living with the border collie. It's not that he doesn't try.
"Bring me the paper," Samantha tells Scout. "You dropped it. No, bring me the paper. Shows you what he thinks of the Trib."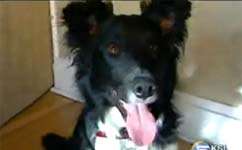 His disrespect isn't intentional. He just crosses a few boundaries. OK, what boundaries? But with a face like his, well, can you blame us?
So we called in reinforcements. Bark Busters is a company that promises to solve any dog problem.
Dog behavioral therapist Jan Fogg said, "What we're looking for is trust, love and respect from Scout."
And that last part requires speaking his language. Samantha and I have to learn how to growl.
"He does not understand English, you know," Fogg tells us. "'Get off the couch. That's not the way we want you to be.' It's 'blah, blah,' to him."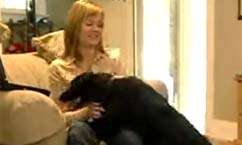 Our growls improve by saying "bah," and within an hour we are all speaking the same language -- dog. Results are dependent on an immediate correction and equally quick praise.
But whether it's walking obediently on the leash or sitting quietly when someone knocks on the door, consistency is a must. There is no grabbing and pulling, only verbal corrections or leash cues. So how did we score?
"Scout is better than I expected. He's a really good student."
By the time Bark Busters leaves, we're the ones walking circles around him.
×
Related links
Most recent Utah stories