Estimated read time: 2-3 minutes
This archived news story is available only for your personal, non-commercial use. Information in the story may be outdated or superseded by additional information. Reading or replaying the story in its archived form does not constitute a republication of the story.
Tonya Papanikolas ReportingWith winter weather conditions and a lot of traffic on Utah's highways, roads here can deteriorate pretty quickly. But a UDOT researcher tests how smooth the roads are almost every day.
As a driver, it's easy to notice cracks in the road and potholes, but the good news is UDOT is aware of the conditions, too.
LeRoy Gunn, UDOT Research Technician: "You can ask me where any state route is, and I can usually tell you."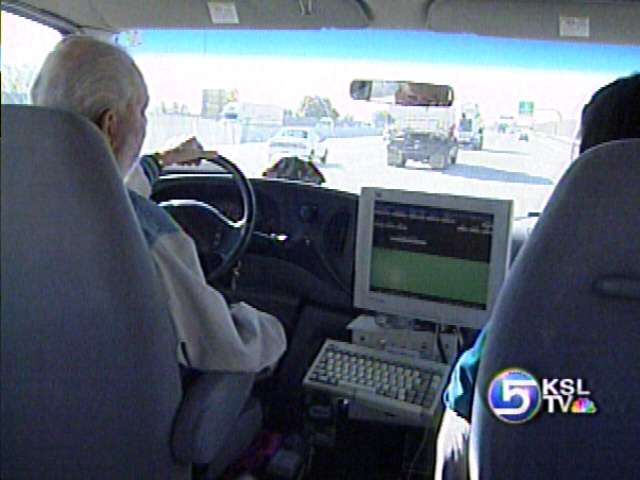 LeRoy Gunn works for the Utah Department of Transportation, driving all over the state to measure the roughness of Utah's roads.
LeRoy Gunn: "I've got to see a lot of the state. This week I'm going up to Flaming Gorge. That's beautiful up there."
The van LeRoy drives has a special panel on the front that shoots unseen lasers into the ground, measuring differences in the ground's surface. That data is then transmitted to a computer. LeRoy gathers the information from every state route and highway across Utah.
LeRoy Gunn: "Which amounts to about 3,000 miles of road."
Whether the road is asphalt or concrete makes a difference in smoothness.
Nile Easton, UDOT: "Even brand new concrete is much rougher than asphalt."
But the state often chooses concrete because asphalt has a shorter life span.
Nile Easton, UDOT Spokesman: "Concrete lasts much longer. So when we have a long-term investment, for instance, when we did I-15, we did all that in concrete because it will last 25-30 years."
The roughness data shows which roads are starting to show potholes and cracking, so the state knows which roads to fix. UDOT says the department tries to maintain the roads regularly so it doesn't have to completely replace them as often.
Nile Easton: "Motorists kind of get frustrated because they see a lot of orange barrels. But it's because we're maintaining the investment we have in the transportation system."
×
Most recent Utah stories