Estimated read time: 3-4 minutes
This archived news story is available only for your personal, non-commercial use. Information in the story may be outdated or superseded by additional information. Reading or replaying the story in its archived form does not constitute a republication of the story.
WEST JORDAN -- Lawmakers are considering a bill that would aim to stop teen drivers from using cell phones at all.
The subject is fresh on people's minds because of an accident involving a 17-year-old using a cell phone. The man who was injured in the crash is still in critical condition.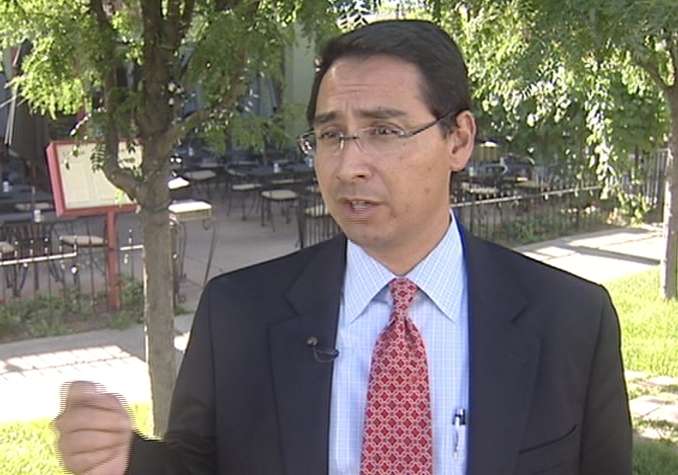 Sen. Ross Romero, D-Salt Lake City, actually tried to pass such a bill back in February but failed to get it past the House. He thinks that until the state does something, there will continue to be more accidents like these.
"Young drivers, just learning, need to be focused on the road," Romero says.
He plans to sponsor a bill that calls for drivers aged 15 to 18 to stop all cell phone use in the car, with certain exceptions. He says the research, especially from the University of Utah, proves that young drivers are affected more by distractions.
West Jordan police say a 17-year-old girl was driving along 7800 South around 10:30 Sunday night, when she drove through a red light at 4800 West and collided with a compact car.
"We're still investigating, right now, as to whether or not that's a contributing factor," says West Jordan police Sgt. Drew Sanders.
The 29-year-old man in the car was flown to the hospital. He had his 4-year-old daughter and 2-year-old son in the backseat. The 4-year-old suffered a broken arm.
Investigators said the girl was talking on the phone to her father, explaining to him why she wasn't home yet. She was not injured in the crash, and it's unclear what charges she may face.
Texting is teen's biggest distraction behind the wheel
• More than 49% of teens report texting as a distraction, up from 31% in 2005
• 82% of teens report using cell phones while driving, while 23% admit to drinking and driving
• More than 60% of teens worry about getting into a car accident, but still admit to practicing distracting or harmful actions while driving

Source: Allstate Foundation
#distraction_div
"It really illustrates the importance of not introducing distractions to these young drivers, and really let them get a better sense of the road," Romero says.
Alberto Diaz, with Revolution Driving Instruction in Salt Lake City, agrees with Romero. He says it takes a long time for drivers to capably look away from the road just for a second, and teens aren't ready for that.
"Especially teenagers -- they're not qualified to respond to those things," Diaz said. "Concentrating in difficult situations is very hard for them, just because it takes many, many years of practice."
Diaz says teen drivers that use cell phones also tend to slow down a lot and do not pay attention to aggressive drivers.
Three years ago, an East High School student was killed by another teen who was on his cell phone while driving.
It's cases like these that are often pointed to as reasons for new laws, even if they would be difficult to enforce.
"It empowers the parents to remind their young drivers that it's unlawful to be talking on their cell phone. So, hopefully that, in and of itself, is a deterrent," Romero says.
Meanwhile, a recent survey by Allstate claims that 56 percent of teens make and answer phone calls while driving and 13 percent of teens send and respond to text messages while driving.
-----
Story compiled with contributions from Nicole Gonzales and Andrew Adams.
---
×
Most recent Utah stories