Estimated read time: 1-2 minutes
This archived news story is available only for your personal, non-commercial use. Information in the story may be outdated or superseded by additional information. Reading or replaying the story in its archived form does not constitute a republication of the story.
MURRAY -- A Sandy couple drowned Sunday when their kayaks capsized in the Jordan River in Murray.
Fire officials say 49-year-old Joseph Glasser and his wife, 51-year-old Kelly Glasser, began kayaking near 11400 South and the Jordan River Parkway with a friend. As they approached 6600 South around 4 p.m., they went over a small waterfall, flipped and got sucked into the water by an undertow.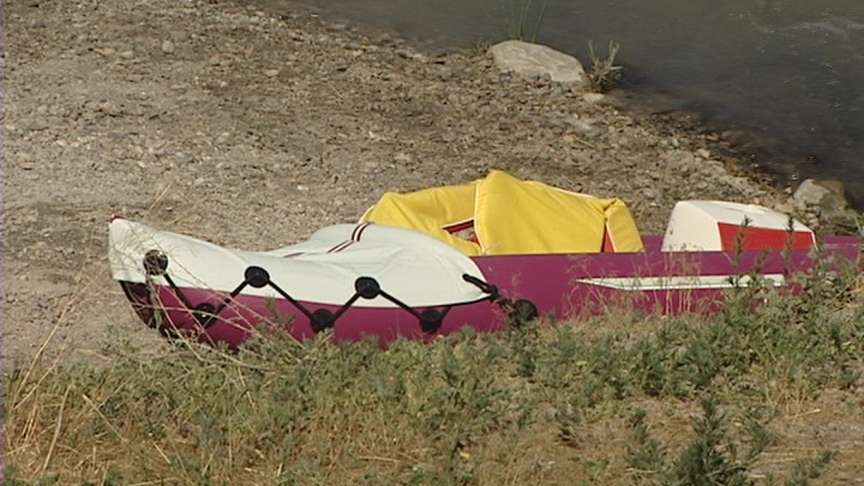 Kevin Winsness saw the Glassers try to make it over the waterfall.
"I ran down and grabbed a branch to see if I could get a branch out to them, but they were right in the middle," he said.
Winsness says he saw the couple's friend come through and make it across safely. The two of them got Joseph Glasser out of the water.
"We drug him up on the bank and started CPR on him," Winsness said. "About then, Murray Fire Department got on site."
---
When they were found here, neither of them were breathing. Neither of them had a pulse.
–Deputy Fire Marshal Russ Groves
---
Swift-water rescue teams used their ropes to pull Kelly Glasser out of the fast-moving water and began CPR. "When they were found here, neither of them were breathing," said Deputy Fire Marshal Russ Groves with Murray fire. "Neither of them had a pulse."
But emergency crews were unable to revive them. The couple was taken to Intermountain Medical Center where they were pronounced dead Sunday evening.
Winsness says despite having flotation devices on, the two simply underestimated the power of what looked to be a small, simple waterfall.
"That waterfall is about a foot and half tops, but it just has an undercurrent that's just deadly," he said.
There are signs in the area warning boaters to get out and walk around the rapids because the current is too swift.
E-mail: lprichard@ksl.com
×
Most recent Utah stories