Estimated read time: 2-3 minutes
This archived news story is available only for your personal, non-commercial use. Information in the story may be outdated or superseded by additional information. Reading or replaying the story in its archived form does not constitute a republication of the story.
Alex Cabrero Reporting"Just a little target practice gun. It wouldn't break the skin. You wouldn't feel it if it hit you."
But one student felt threatened so he fought back. Now another student is in the hospital. Was it self defense or senseless beating? Police have already decided, but the family of a boy in the hospital doesn't agree.
Anczac Park is where you'll see people playing lots of sports the city approves of. Boxing isn't one of them.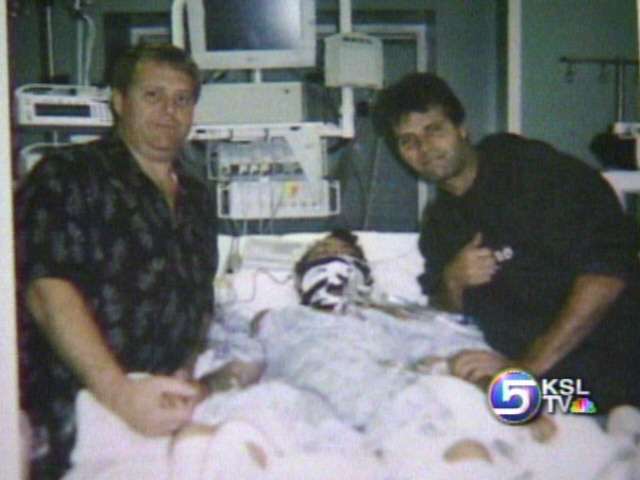 With as much tennis as Sonja Mann and her friends play, they thought they'd seen it all, until yesterday when one of the hardest hits they've ever seen happened off the court.
Sonja Mann, Tennis Player: "They had a fight and we weren't sure what was happening. But then the helicopter came."
That chopper landed at their beloved Anzak Park in Cottonwood Heights, because Damien Slater needed to go to the hospital.
Mike Slater, Damien's Father: "It's my worst nightmare. I don't know, I just hope my kid makes it."
Damien, just 12 years old, is in bad shape. But how, or more importantly why, is the big debate.
Mike Slater: "It went anything beyond self defense."
Damien was at the park because police say he and a friend, both 7th graders from nearby Butler Middle School challenged an eighth grader to a fight.
Lt. Robert Russo, Salt Lake Co. Sheriff's Office: "The eighth grader declined the fight, saying, 'you have guns. Leave me alone.' And he wanted to be left alone."
That's right, guns. Police say Damien and his female buddy pointed guns at the eighth grader and took his wallet. He gave it to them and thought that was that, until Damien supposedly wanted to fight more.
Turns out those guns were pellet guns, so the 8th grader beat Damien up, bad.
Jeff Slater, Damien's Uncle: "Damien's gun was made of clear plastic. It could not have been in any way mistaken for a real gun."
The sheriffs and district attorney's office say it was self defense on the eighth grader's part, so he won't be charged. In fact, Damien and his buddy are the ones facing aggravated assault and robbery charges, something Damien's family says isn't right.
×
Most recent Utah stories