Estimated read time: 2-3 minutes
This archived news story is available only for your personal, non-commercial use. Information in the story may be outdated or superseded by additional information. Reading or replaying the story in its archived form does not constitute a republication of the story.
SALT LAKE CITY -- The Utah Attorney General's Office says it plans to look into whether any state laws may have been broken with potentially fraudulent Social Security numbers on the controversial immigration list -- but that effort could run into a significant legal obstacle.
Several weeks ago, Gov. Gary Herbert referred to the immigration debate as both "emotional" and "complex."
Case in point: What the state should do about Social Security numbers on "the list"?
On the list of 1,300 purported undocumented immigrants, there are 36 names with Social Security numbers. A spokesman for the Department of Workforce Services tells news outlets only two are valid numbers, and the agency doesn't know why the others aren't.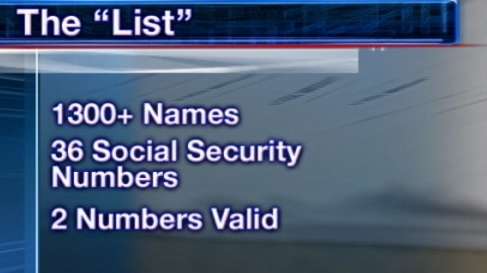 Cherilyn Eagar, the former GOP candidate for U.S. Senate, is a member of the group Utah Coalition on Illegal Immigration, which is concerned about Social Security numbers being stolen -- often from children.
"We're all concerned about our children's identity," she said. "And if there are 34 out of 36 of those Social Security numbers that are fraudulent, then we definitely need to find out what's going wrong and take action."
But Emily Chiang, director of the Civil Rights Clinic at University of Utah, raises constitutional questions about using the list to go after the use of invalid Social Security numbers -- specifically citing the Fourth Amendment, which guards against unreasonable searches and seizures.
"It's well settled under the Constitution that the government can't violate people's rights, obtain information and then use that information against them to prosecute them," Chiang said. "I think any good criminal defense attorney would say that information should be suppressed. It's the fruit of a poisonous tree."
Two weeks ago, when the governor announced state investigators had narrowed their probe to two state workers, he was asked if the state would use the list to investigate the names on it.
"There is no attempt by the state at this time to investigate members on the list," Herbert replied.
In a statement Friday Paul Murphy, spokesman for the attorney general, said his office was committed to finishing its investigation into the release of the list before looking at potentially fraudulent Social Security numbers.
The attorney general's office declined KSL's request for an interview Friday, saying it's agreed to "not to comment during a pending investigation."
E-mail: jdaley@ksl.com
×
Related stories
Most recent Utah stories